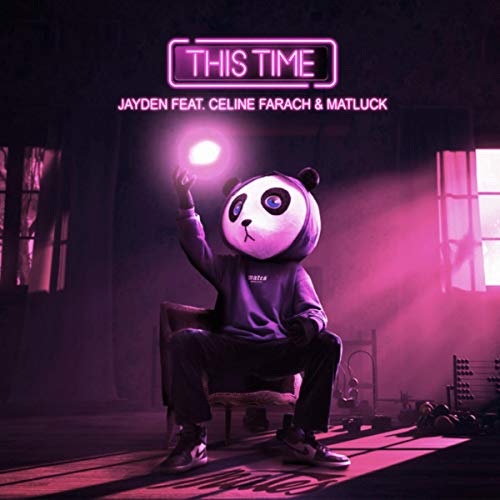 Just six days after its initial release, Jayden's debut track "This Time" received over 1.6 million views on YouTube alone. The upbeat and bouncy song features the vocal talents of Miami natives Celine Farach and Matluck. Farach started her career with the model agency Wilhelmina before making the switch to the music industry, while Max Matluck has collaborated with the likes of Matisse & Sadko, Nicky Romero and Stadiumx, Orjan Nilsen, Dzeko, Felix Jaehn, and Mike Williams.
The Panda head wearing Jayden recently joined the Mates collective, which is based in Italy. Read on for an interview with Jayden as he talks about working with the vocalists, what it's like with the Mates family, and some of his favorite tracks at the moment!
Hey Jayden! Appreciate your time in answering a few questions. I'll get the most obvious question out of the way: why the panda head?
Together with the collective 'Mates', my goal was to find a character that best represented both myself and the world I wanted to create with my music, as well as crossing the boundaries between magic and reality. We felt that the panda best showcased these ideas.
Your debut single "This Time" racked up 1.6 million views on YouTube in less than a week after its release. Did you expect to get this kind of reaction so soon?
I feel really lucky because when I joined the Mates family, they already had a strong following of loyal fans and nobody anticipated my arrival in the group. I was happily surprised by the enthusiasm with which fans were listening to my first track, "This Time". This is only the beginning though and of course there is still so much work ahead of me.
How did you connect with Celine Farach and Matluck, and what was it like working with them in the studio and on the music video?
The whole team worked remotely for this track so it wasn't an easy collaboration and we didn't have a lot of time to finish the song. All things considering, I was really happy with the final result and we were lucky enough to have Celine and Matluck here in Milan to shoot the official music video.
You're part of the Italian YouTube collective Mates. What's that all about?
Mates is a group that was established in 2014 and has since been making entertainment content for social networks and Italian television. Like me, they have a real passion for electronic dance music and decided to support me in my journey of becoming a producer and DJ. It's been an absolute pleasure to build my project with them and since they have such crazy and creative ideas, they've been able to really help me get my message across with photo and video content.
What do you have in store for 2019?
I am working on quite a few musical projects at the moment and am aiming to release a new song in time for summer. Together with my team, we are coming up with a show that we can take around the world, one that's uniquely crazy and spectacular. I'd really like to have a few gigs in the pipeline so I can express myself and show what I can do out of the studio.
Favorite Song of 2018: There is so much beautiful music going around at the moment that it's really hard to choose just one song! I'm currently playing around in the studio with some Future House and Future Bounce, which has made me really appreciate the work of Dropgun, Brooks and other big players in this circle.
Best track to play at peak time: I'm going to go with a recent release: David Guetta, Brooks, & Loote – Better When You're Gone.
Unexpected remix to switch things up: I'd go with What So Not – Beautiful ft. Winona Oak.
Vocalist you'd most like to work with: We are in touch with many singers, a lot of great voices and skilled songwriters. Someone with whom I have no contact but would love to work with in the future is Bonn – incredible voice.
Upcoming artist to watch for in 2019: Maroma and The Golden Army are acts that both really deserve more hype for their production quality so I'd love to see them on more people's radar this year. I also think that Mike Williams, although already very successful, will grow to be even bigger his year.
Check out the official music video below!
Jayden – Facebook / Twitter / Instagram / Soundcloud
Celine Farach – Facebook / Twitter / Instagram / Soundcloud
Matluck – Facebook / Twitter / Instagram / Soundcloud