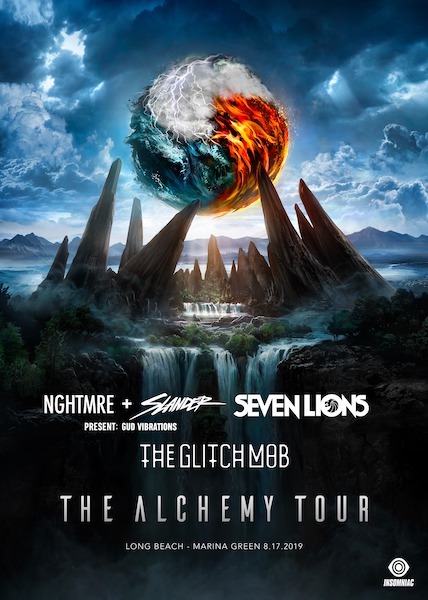 Checking out SLANDER live in person is really cool. Seeing SLANDER and NGHTMRE together is really, really cool. Catching SLANDER, NGHTMRE, and Seven Lions perform on stage is really, really, really cool. Getting the chance to see SLANDER, NGHTMRE, Seven Lions, and The Glitch Mob all in one place is really, really, really, really cool!
On May 17th, SLANDER, NGHTMRE, Seven Lions, and The Glitch Mob all changed their social media profile pictures to the same photo, leaving fans wondering if the surprise was a tour, a new collaboration, or something else. Yesterday morning, all four artists announced that The Alchemy Tour, with the first stop coming to Marina Green in Long Beach on Saturday August 17th.
Tickets for The Alchemy Tour will go on sale tomorrow Thursday May 30th at 10:00am PDT. The 18+ event from Insomniac will run from 2:00pm-10:00pm.
Los Angeles based duo Derek Andersen and Scott Land recently put out "Love Is Gone" featuring Dylan Matthew a few weeks back, and previously collaborated with Seven Lions, Dabin, and Dylan Matthew last October on "First Time". Los Angeles resident Tyler Marenyi worked on "BANG" with Shaquille O'Neal and Lil Jon in February, and released a VIP of his tune "REDLIGHT" with A$AP Ferg last month.
Santa Barbara native/Seattle resident Jeff Montalvo teamed up with Crystal Skies for the first time on "Sojourn" earlier this month, and put out an amazing remix of Above & Beyond's "Sahara Love" featuring Zoë Johnston in March. The Glitch Mob's Los Angeles based trio of Boreta (Justin Boreta), edIT (Edward Ma), and Ooah (Joshua Mayer) released their album "See Without Eyes" a year ago this month, and did a guest mix on Night Owl Radio 179 in January.
SLANDER – Facebook / Twitter / Instagram / Soundcloud
NGHTMRE – Facebook / Twitter / Instagram / Soundcloud
Seven Lions – Facebook / Twitter / Instagram / Soundcloud
The Glitch Mob – Facebook / Twitter / Instagram / Soundcloud