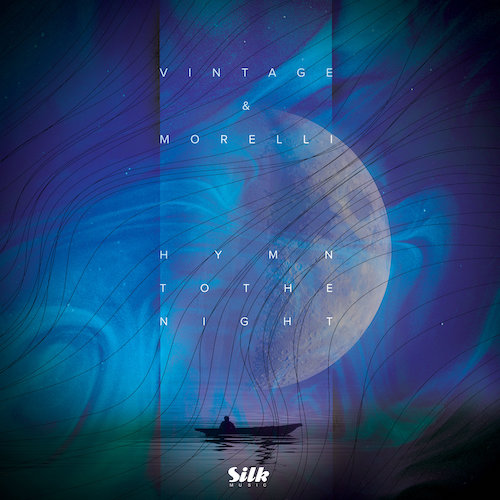 Vintage & Morelli's second album titled "Hymn To The Night" has been released on Los Angeles based record label Silk Music. Marko Cubric creates 14 tracks that range from progressive house to trance to drum and bass (yes, you read that right). The DJ and producer from Belgrade, Serbia has had various songs from the album supported by the likes of Above & Beyond, Armin Van Buuren, Kyau & Albert, Ferry Corsten, Cosmic Gate, Markus Schulz, Shane 54, Tom Fall, DIM3NSION, Andromedha, and more.
Read on for an interview with Vintage & Morelli about his growth as an artist, working with vocalists Brandon Mignacca and Arielle Maren, and the upcoming 2019 SILK Music Showcase 500: USA Summer Tour at The Circle OC in Huntington Beach on Saturday August 3!
What's up Vintage & Morelli! Thanks for your time in answering a few questions today. How has the first half of 2019 been for you?
Hey, thank you so much for the invite. It has been surreal thus far. The release of my second artist album (which debuted at number 6 on iTunes in the States) and my first US Tour. All of the love I've received…. gotta tell you, a bit overwhelming (in a most positive way).
Your second album "Hymn To The Night" was recently released on Silk Music. How have you grown since your debut album "My Rose Enchanted Destiny" in 2016?
I believe I've matured a lot as an artist. Experimenting with sound, trying something new, but always staying true to my sound, keeping that sparkle of emotion glow ever so bright. Music is my way of channeling my emotions, so people get to experience a little piece of my soul.
How did you first get in touch with Silk Music and decide to release your music from the label?
I've been a fan of Silk Music for a while before actually joining the label. It all happened in 2012. I've met a lot of beautiful people online, one of them was Guy, a friend from Israel. He connected me with Eli (Former A&R of Arrival Recordings, which was part of the Silk Music label group 4-5 years ago). They absolutely loved my sound, signed it, and I've been a member of the Silk Music family ever since.
What was it like working with vocalists Brandon Mignacca and Arielle Maren on the album?
Arielle and Brandon are two of the most talented artists I've ever worked with. I've been writing music closely with Arielle for couple of years now — she is definitely one of the best songwriters out there, and her voice is just out of this world. Same goes for Brandon, whom I've just met recently, super talented, very down to earth guy, easy to work with. Collaboration at its best.
Anything you can share about the 2019 SILK Music Showcase 500: USA Summer Tour you'll be joining?
Yes. My US debut. Been waiting for this for years. It is already in motion actually. Already played in Chicago, Denver, Seattle and San Francisco. All amazing cities, beautiful, genuine people, and just positive vibes. I'm playing in Phoenix and Orange County on August 2nd & 3rd, so come on over and say hi! 🙂
Favorite song of 2019 so far: Definitely one from my new album: "Breathe" with Arielle Maren.
Best track to play at peak time: Vintage & Morelli x Arielle Maren – Shadows
Unexpected remix to switch things up: Ilan Bluestone feat. Giuseppe De Luca – I Believe (Vintage & Morelli Remix)
Vocalist you'd most like to work with: Wouldn't change Arielle for anything 🙂
Upcoming artist(s) to watch for in 2019: A.M.R — one of the most talented producers at the moment, absolutely love everything he puts out.
Take a listen to Vintage & Morelli's "Hymn To The Night" below and give him a follow!
Vintage & Morelli – Facebook / Twitter / Instagram / Soundcloud
Vintage & Morelli – Hymn To The Night (Album) Tracklist:
01. Vintage & Morelli – Cosmic Overture (Original Mix)
02. Vintage & Morelli – Senshi (Original Mix)
03. Vintage & Morelli x Arielle Maren – Awaken (Original Mix)
04. Vintage & Morelli – Riptide (Original Mix)
05. Vintage & Morelli – The Deep Abyss (Original Mix)
06. Vintage & Morelli – Last Of Us (Original Mix)
07. Vintage & Morelli – Hymn To The Night (Original Mix)
08. Vintage & Morelli – Ascension (Original Mix)
09. Vintage & Morelli x RNX x Arielle Maren – Lonely Shore (Original Mix)
10. Vintage & Morelli x Arielle Maren – Breathe (Original Mix)
11. Vintage & Morelli x Brandon Mignacca – Bloom (Original Mix)
12. Vintage & Morelli x Arielle Maren – Oh Darling (Original Mix)
13. Vintage & Morelli x Brandon Mignacca – Love Is (Original Mix)
14. Vintage & Morelli x Arielle Maren – Shadows (Original Mix)