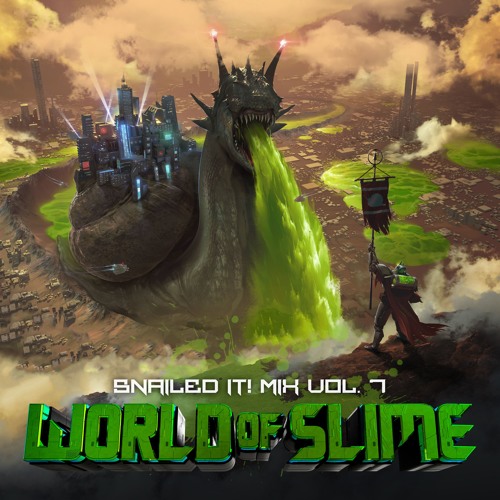 The highlight for many SNAILS fans each year is the release of his immensely anticipated SNAILEDIT! mix series that are full of new releases and IDs from the man himself as well as other artists from his Slugz Music record label. This year's edition is titled "World Of Slime" and has a number of  unreleased tunes from rising bass produces and well known veterans.
Included in the filthy mix are his top notch collaborations with Krimer, Wooli, Subtronics, Rico Act, Carbin, and Barely Alive. There's also brain melting tracks from the likes of Jayceeoh, Kompany and Wooli, Hekler, 12th Planet and Bandlez, MUST DIE!, Riot Ten and SAYMYNAME, Virtual Riot and Infekt, Rusko, and Phaseone and Eliminate.
One of the standout songs in the mix is his collaboration with Subtronics called "SNAILCLOPS". The tune from the Canadian artist and Philadelphia native Jesse Kardon uses booming basslines and gritty synths to get you headbanging from start to finish.
"New stuff I've been working on and playing out right now from some of my favorite producers. You might even hear some upcoming Slugz Music releases hehe. See you guys on the World Of Slime tour!! "
SNAILS – Facebook / Twitter / Instagram / Soundcloud
SNAILS – SNAILEDIT! Mix Vol. 7 (World Of Slime) Tracklist:
01. Hi I'm Ghost – ID
02. SNAILS & Krimer – Jackhammer
03. Jayceeoh – ID
04. Kompany & Wooli – ID
05. Hekler – Woah
06. 12th Planet & Bandlez – ID
07. SNAILS & Wooli – SNAILEPHANT VIP
08. Detrace & Cromatik – ID
08. Charlie Zane – ID
09. Rated R – ID
10. Spag Heddy – Zoom (ID Remix)
11. Death Pit & Rated R – ID
12. MUST DIE! – ID
13. Riot Ten & SAYMYNAME – ID
14. Antiserum – ID
15. SNAILS & Subtronics – ID
16. Sam Lamar – ID
17. Virtual Riot & Infekt – Das Riddim
18. Rusko – ID
19. Subtronics – ID
20. SNAILS – RKO ft. Rico Act
21. Jayceeoh – ID
22. Charlie Zane – ID
23. Wooli & Avance – ID
24. Phaseone & Eliminate – ID
25. SNAILS & Carbin – ID
26. Hi I'm Ghost & Mt. Eden – ID
27. SNAILS & Barely Alive – ID