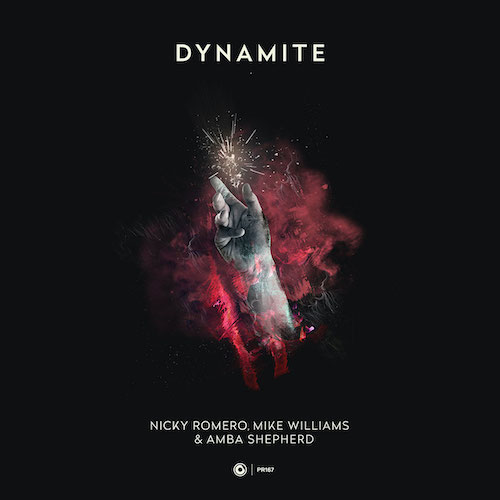 Nicky Romero and Mike Williams have teamed up for a dynamic progressive house tune called "Dynamite". The uplifting and melodic track features the captivating vocals of singer/songwriter Amba Shepherd, which was released on Protocol Recordings. The Dutch duo of Nick Rotteveel and Mike Willemsen use their exceptional production skills to showcase Australian Amber Shepherd's entrancing vocals.
Romero says that "I got to know Mike by Instagram, we were in touch for a while when he asked if we could do a studio session anytime soon, so we planned everything and came out to the studio, worked on a few ideas and got this one going really fast. Great working with someone who is very hands-on with his production, the reason why we could work really fast!"
Williams states "It was really cool to work with a big artist like Nicky. We spend some time in his studio together, talking about music, this industry and of course working on the collab. It's a bit unreal for me! I'm super happy with the result of the track. I hope everyone likes it!".
Romero has played the song on his Protocol Radio show as well as at festivals like Ultra Music Festival, Tomorrowland, Untold Festival, Mysterland, and Amsterdam Dance Event. Williams has showcased the track on his  radio show On Track, in addition to playing it at major shows like Tomorrowland, Amsterdam Dance Event, and Amsterdam Music Festival. Recent support has come from Fedde Le Grand, Showtek, Dannic, Lucas & Steve, W&W, and Hardwell.
Nicky Romero – Facebook / Twitter / Instagram / Soundcloud
Mike Williams – Facebook / Twitter / Instagram / Soundcloud
Amba Shepherd – Facebook / Twitter / Instagram / Soundcloud