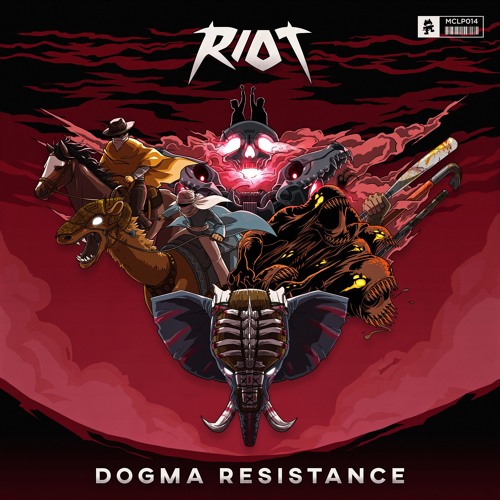 Los Angeles based duo RIOT have released their debut album "Dogma Resistance" on Monstercat. Israeli natives Tom Davidson and Daniel Magid include 10 songs in the release from the Vancouver based record label: "Overture 1990", "Jungle Fury" "Disorder (Rebirth)", "Blackwater", "Desert To Desert (Interlude)", "Aiwa", "The Mob", "Last Stand (Interlude)", "Overkill", and "Take That".
Accompanying the album is a visual comic book by HERØ, where RIOT tell the story of Raymond Colt and his descendants in a fusion of past and future. "'Dogma Resistance' begins in the year 1936, when Colt and his sidekick accidentally uncover a nefarious force of evil that the world has never seen before. Fast-forward to the year 2045 and this evil, known as Deinos, has been ruling the world for over a century. Follow along as Colt's descendants rage a war to fight for all of the humankind against the alien enemy, an adventure that will test them to their very limits and brings them into contact with things of legend, such as the protector of the long-lost city of Atlantis."
The guys have previously worked with SLANDER, Kayzo, Dirtyphonics, and Apashe, with releases on labels such as Play Me Records, Dim Mak, and Kannibalen Records. The also have a number of remixes that go all out, such as their version of "Battle Sirens" by Knife Party and Tom Morello, "The Tribe" by Vini Vici, and "Can't Stop" by Red Hot Chili Peppers.
RIOT say that "'Dogma Resistance' is an album we have been working on for well over a year and a half now. The production from start to finish was one of the toughest challenges as producers that we have faced. Creating a seamless storyline in electronic music can sometimes be tough, we wanted to give the fans something more, something they would want to listen from start to finish on repeat over and over again. Allowing the fan to create their own vision and storyline for the music, becoming imaginative and creative, which as a musician, is one of the best feelings a fan can give you. Thank you so much to everyone who has followed this journey. It means a lot to us!"
Anyone who pre-saves/pre-orders the comic will get a 4-page preview and will automatically get an email on November 13 with a download link to the full version of the comic.
RIOT – Facebook / Twitter / Instagram / Soundcloud
RIOT – Dogma Resistance (Album) Tracklist:
01. RIOT – Overture 1990 (Original Mix)
02. RIOT – Jungle Fury (Original Mix)
03. RIOT – Disorder (Rebirth) (Original Mix)
04. RIOT – Blackwater (Original Mix)
05. RIOT – Desert to Desert (Interlude) (Original Mix)
06. RIOT – Aiwa (Original Mix)
07. RIOT – The Mob (Original Mix)
08. RIOT – Last Stand (Interlude) (Original Mix)
09. RIOT – Overkill (Original Mix)
10. RIOT – Take That (Bonus Track) (Original Mix)