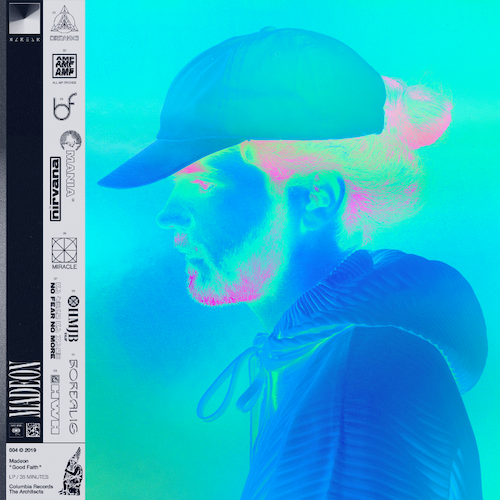 Madeon's long awaited second album titled "Good Faith" has been released on Columbia Records. The 10 track set from the French artist includes previously released songs such as "All My Friends", "Dream Dream Dream", and "Be Fine". Now based in Los Angeles, Hugo Leclercq started working on this album right after his debut album "Adventure" was put out in March 2015.
The is the first album that I've heard in the long time where I can't pick a couple favorites like I usually do. The three previously released songs have been heard for a few months now, and the seven other tunes are just as impeccably produced. The majority of the tracks on the album also feature his own vocals in one way or another, a step up from the three out of eighteen tunes on his first album.
Madeon says that "I've been living this album every day for years and now it's time to share it. I wanted to capture the colors of this mysterious, sometimes dangerous joy I've been feeling in episodes lately. Those moments where reality feels more colorful, more profound, more spiritual, more fun than usual. I tried to illustrate that by welcoming into my world the sounds of humans, from large choirs to soloists, children and live musicians."
He continues, "I also wanted to make an album that was more of an artist album than a producer album if that makes sense – so I wrote all the songs and am singing most of it. I grew from a teenager to an adult in the making of this album and my hope is that you find something to cherish there! I've been living in the Good Faith era for a couple of years and now it's ours."
Madeon has played a few of the tracks at major festivals this past summer, including Porter Robinson's Second Sky Music Festival and Lollapalooza in Chicago. Further support for various songs from the album have come from the likes of Illenium, Louis The Child, Zeds Dead, Valentino Khan, Two Friends, Ray Volpe, Autograf, R3hab, Lost Frequencies, MAKJ, and Matoma.
He also just finished two shows at the Shrine Expo Hall this past weekend as part of his Good Faith Live tour. He also has his Good Faith Pop-Up in Los Angeles today at Agency Coffee Company from 10am-6pm, featuring exclusive merchandise, limited edition Madeon products, and a special surprise guest.
Madeon – Facebook / Twitter / Instagram / Soundcloud
Madeon – Good Faith (Album) Tracklist:
01. Madeon – Dream Dream Dream (Original Mix)
02. Madeon – All My Friends (Original Mix)
03. Madeon – Be Fine (Original Mix)
04. Madeon – Nirvana (Original Mix)
05. Madeon – Mania (Original Mix)
06. Madeon – Miracle (Original Mix)
07. Madeon – No Fear No More (Original Mix)
08. Madeon – Hold Me Just Because (Original Mix)
09. Madeon – Heavy With Hoping (Original Mix)
10. Madeon – Borealis (Original Mix)