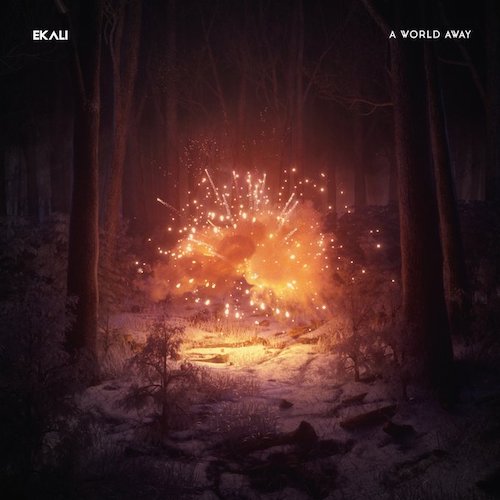 In 2019, Ekali teased us with a handful of tracks from his long awaited first full album titled "A World Away". Months later, we now have the official 12 song set that was released from New York based imprint Big Beat Records. It's filled to the brim with impressive melodic and emotional collaborations, as he works with the likes of Elohim, Reo Cragun, Au/Ra, mossy., Nitti Gritti, Kiiara, Wafia, and Illenium and Chloe Angelides.
To support the album, Canadian DJ and producer Nathan Shaw will be starting his A World Away tour next week, which will see him in Seattle, Aspen, Denver, Madison, Detroit, Boston, New York City, and more. Catch Ekali at the Shrine Auditorium in Los Angeles on Friday February 14 with Graves and Juelz!
"The core of the album centers around the idea of a moment of warmth when all else is desolate. I'm trying to capture the emotion of something special but only what's left when it's fleeting and/or leaving. A warm moment in a cold place and subsequent cycle of healing."
Various songs from the album have been supported by Jauz, Alison Wonderland, Illenium, Zeds Dead, Party Favor, Benzi, Louis The Child, Tiesto, and NGHTMRE and SLANDER.
Ekali – Facebook / Twitter / Instagram / Soundcloud
Ekali – A World Away (Album) Tracklist:
01. Ekali & Elohim – Fairy Tale (Original Mix)
02. Ekali – Runaway ft. Reo Cragun (Original Mix)
03. Ekali – Braids (Original Mix)
04. Ekali – Drown ft. Au/Ra (Original Mix)
05. Ekali & mossy. – Cage (Original Mix)
06. Ekali – Faithless (Original Mix)
07. Ekali & Nitti Gritti – Power (Original Mix)
08. Ekali – To A Friend (Interlude)
09. Ekali – Back To You feat. Kiiara (Original Mix)
10. Ekali – Be Fine ft. Wafia (Original Mix)
11. Ekali – Flow Through Me (Original Mix)
12. Ekali & Illenium – Hard To Say Goodbye ft. Chloe Angelides (Original Mix)