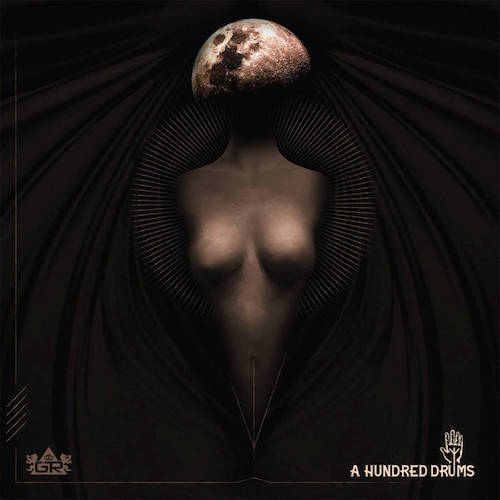 A Hundred Drums has released her new seven track self titled album on Gravitas Recordings. The deep and enchanting set features collaborations with James Xavier and Templo, in addition to two sensational remixes by Vibe Emissions and Leon Switch. The album was put out on February 14, with A Hundred Drums saying that "I choose to release on Valentines Day as my way of saying thank you to everyone that has supported me! On this day of love, I give you what means truly, everything to me!"
With a name like A Hundred Drums, the drum work better be on point, and without a doubt it definitely is. Denver based artist Gabrielle Watson, who started out in 2006, uses captivating and mystifying soundscapes with haunting melodies and eerie vibes throughout the album. The album consists of "Shakti Sound", "Circles" featuring James Xavier, "Boogie Man", "Psy Area", "Apex" with Templo, a Vibes Emission remix of "Circles", and a Leon Switch remix of "Lord of Tings" featuring Jayne Gray.
Catch A Hundred Drums live at Lightning in a Bottle taking place this upcoming Memorial Day weekend May 20-25 at Buena Vista Lake in Kern County. She'll be performing on the Thunder stage, which is a waterfront stage that will also see the likes of James Blake, Amon Tobin, DJ Shadow, Keys N Krates, DROELOE, The Funk Hunters, Minnesota, EPROM, Shlump, and more.
A Hundred Drums – Facebook / Twitter / Instagram / Soundcloud
A Hundred Drums (Album) Tracklist:
01. A Hundred Drums – Shakti Sound (Original Mix)
02. A Hundred Drums – Circles ft. James Xavier (Original Mix)
03. A Hundred Drums – Boogie Man (Original Mix)
04. A Hundred Drums – Psy Area (Original Mix)
05. A Hundred Drums & Templo – Apex (Original Mix)
06. A Hundred Drums – Circles (Vibe Emissions Remix)
07. A Hundred Drums – Lord of Tings ft. Jayne Gray (Leon Switch Remix)