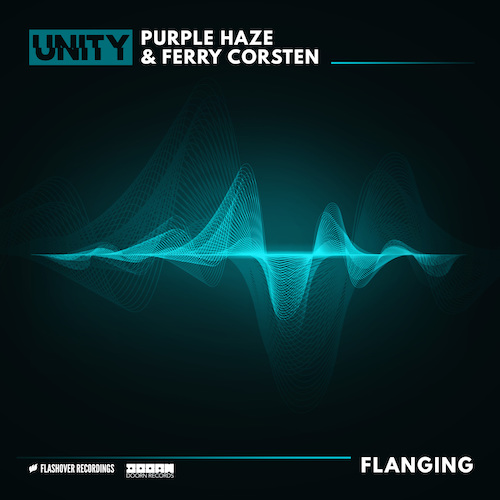 Sander van Doorn's alias Purple Haze joins Ferry Corsten's UNITY project in a collaboration titled "Flanging". The mesmerizing trance tune from pair of Dutch artists was joint released on Sander Ketelaars imprint Doorn Records and Corsten's label Flashover Recordings. I was surprised to see that this is the first time that Sander van Doorn and Ferry Corsten have worked together, but the track with driving kicks and distinctive melodies make it well worth the wait.
van Doorn states "After so many years talking about it, we finally ended up in the studio. It was a real treat working with Ferry and I couldn't be happier with the result. Best of both worlds!"
Corsten says "Many times Sander and I have discussed a collab over the years. Always being too busy and too focused on other things, it never happened. Until now. We finally sat down and flushed out this banger of a track called 'Flanging'. I am very excited to bring this latest UNITY collab into the world."
Armin van Buuren, W&W, Markus Schulz, Andrew Rayel, Ben Gold, Bobina, Alexander Popov, Natalie Gioia, JES, Rene Ablaze, and DIM3NSION have all played the track.
The song is a continuation of Corsten's UNITY project that was launched last year, with partial proceeds from the project going to VH1's Save The Music Foundation, which is focused on restoring music programs in schools and has successfully donated new musical instruments and equipment to over 2,100 public schools across the USA and riased over $53 million to date. The project has seen the Dutch artist collaborate with Paul Oakenfold on "A Slice of Heaven", with DIM3NSION on "Safe With Me", with Jordan Suckley on "Rosetta", with Saad Ayub on "Synchronicity", with Ilan Bluestone on "We're Not Going Home", BT on "1997", and with Gabriel & Dresden on "I Am You".
Purple Haze – Facebook / Twitter / Instagram / Soundcloud
Ferry Corsten – Facebook / Twitter / Instagram / Soundcloud