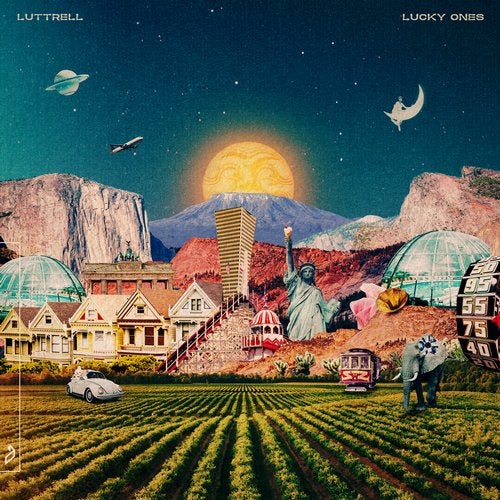 Following up his February 2019 debut album "Into The Clouds" from Above & Beyond's record label Anjunadeep is Luttrell, as he returns to the imprint for his second LP in "Lucky Ones". The 11 track set from San Francisco native Eric Luttrell "see him draw from a deep pool of personal influences, including the likes of The Smashing Pumpkins, Nirvana, and The Prodigy, his love for San Francisco and Burning Man, time spent as a student in Berlin, climbing Mount Kilimanjaro, and even winning the US TV game show, The Price Is Right." Yes, that Price Is Right.
A few of my favorites in the album are the title track "Lucky Ones", "Universal Theory", "Synergy 2000", and "Find Me". Check out the Youtube playlist below, where Luttrell comments on each video some of his inspirations and a bit of background behind each track.
"I am incredibly lucky to have such enthusiastic and amazing support behind this project and this album is dedicated to all of my fans and listeners. I hope the songs on this album make you smile, make you dance and most of all, make you feel all the feels. Enjoy!"
Luttrell was previously part of The M Machine trio, which saw their tracks released from labels such as Skrillex's OWLSA, Mat Zo's Mad Zoo, Madeon's popcultur, and Boys Noize's Boysnoize Records. He's been requested to remix tracks from the likes of Moby, Tycho, What So Not, and Jai Wolf, with his own songs supported by DJs such as Pete Tong, Kölsch, Joris Voorn, and Lane 8.
Luttrell – Facebook / Twitter / Instagram / Soundcloud
Luttrell – Lucky Ones (Album) Tracklist:
01. Luttrell – Intro (Original Mix)
02. Luttrell – What Do You Feel? (Original Mix)
03. Luttrell – Lucky Ones (Original Mix)
04. Luttrell – Universal Theory (Original Mix)
05. Luttrell – My Friend The Sun (Original Mix)
06. Luttrell – Synergy 2000 (Original Mix)
07. Luttrell – Find Me (Original Mix)
08. Luttrell – Albanian Summer (Original Mix)
09. Luttrell – Dipper (Original Mix)
10. Luttrell – Some Other Time (Original Mix)
11. Luttrell – No Pressure (Original Mix)