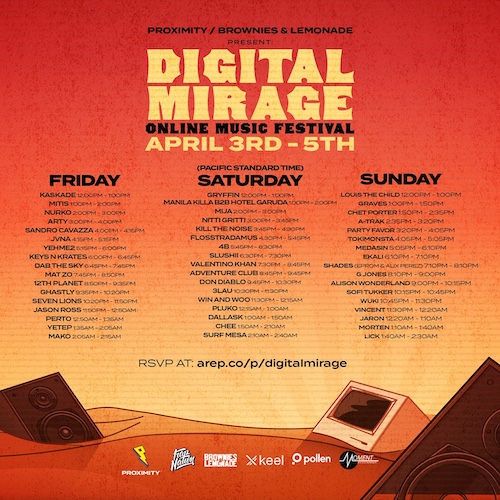 A few weeks ago, Proximity and Brownies & Lemonade both put out a tweet asking if there was interest in a massive online live streaming music festival. The answer from both fans and artists was a resounding 'yes', with both Proximity and Brownies & Lemonade joining forces to create the Digital Mirage Online Music Festival taking place this Friday April 3, Saturday April 4, and Sunday April 5.
The set times for Digital Mirage were released today, which you can check out above or right here. The best part is that there is one virtual stage, so no clashing set times!
Scheduled to play on Friday are Kaskade, MitiS, Nurko, Arty, Sandro Cavazza, JVNA, Yehme2, Keys N Krates, Dab The Sky (Dabin & Said The Sky), Mat Zo, 12th Planet, Ghastly, Seven Lions, Jason Ross, Perto, Yetep, and Mako.
Saturday will see Gryffin, Manila Killa b2b Hotel Garuda, Mija, Nitti Gritti, Kill The Noise, Flosstradamus, 4B, Slushii, Valentino Khan, Adventure Club, Don Diablo, 3LAU, Win and Woo, Pluko, DallasK, Chee, and Surf Mesa perform.
Sunday will see the likes of Louis The Child, Graves, Chet Porter, A-Trak, Party Favor, TOKiMONSTA, Medasin, Ekali, Shades (Eprom & Alix Perez), G Jones, Alison Wonderland, SOFI TUKKER, Wuki, Vincent, Jaron, Morten, and LICK.
Sets will be broadcast on Proximity's Youtube channel and PlayStation Network via Littlstar. 100% of the proceeds will benefit the Sweet Relief Musicians Fund, a 501(c)(3) nonprofit which is based out of Fullerton. Their COVID-19 Fund provides assistance for musicians and music industry workers affected by the Coronavirus. You can also make a donation through Dice.
According to Brownies & Lemonade, some artists will be "playing at incredible locations, setting up production, creating new music, bringing in props, and making the experience as cool as possible". Proximity also posted a Digital Mirage Spotify playlist of tracks form artists who are set to perform.
Proximity – Facebook / Twitter / Instagram / Soundcloud / Youtube
Brownies & Lemonade – Facebook / Twitter / Instagram / Soundcloud / Website
Friday April 3 Lineup:
Kaskade, MitiS, Nurko, Arty, Sandro Cavazza, JVNA, Yehme2, Keys N Krates, Dab The Sky (Dabin & Said The Sky), Mat Zo, 12th Planet, Ghastly, Seven Lions, Jason Ross, Perto, Yetep, Mako
Saturday April 5 Lineup:
Gryffin, Manila Killa b2b Hotel Garuda, Mija, Nitti Gritti, Kill The Noise, Flosstradamus, 4B, Slushii, Valentino Khan, Adventure Club, Don Diablo, 3LAU, Win and Woo, Pluko, DallasK, Chee, Surf Mesa
Sunday April 6 Lineup:
Louis The Child, Graves, Chet Porter, A-Trak, Party Favor, TOKiMONSTA, Medasin, Ekali, Shades (Eprom & Alix Perez), G Jones, Alison Wonderland, SOFI TUKKER, Wuki, Vincent, Jaron, Morten, LICK