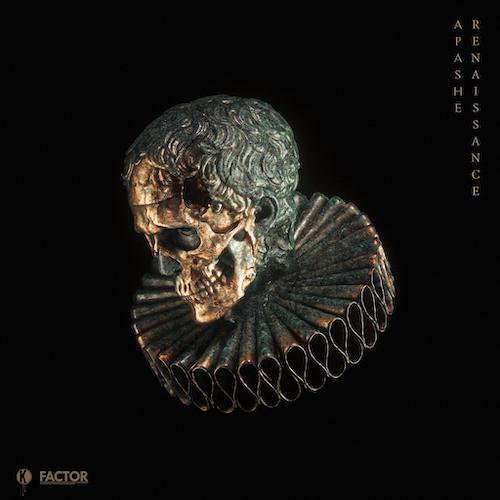 There had been a lot of anticipation and suspense as to when Apashe would release his second album in "Renaissance" from Kannibalen Records. We finally received the whole 13 track album last week, but the wait was definitely worth it. Belgian native John De Buck's new genre bending album bridges his signature majestic and cinematic bass style with classical and orchestral sounds. As one commenter on Youtube said, "I'm so confused, it's like listening an album from 1700 and 2100 at the same time."
A few of the songs in the set had previously been released from Kannibalen Records, the label started in 2011 by the Black Tiger Sex Machine trio. Those tunes include "Insane" featuring Tech N9ne, "Distance" featuring Geoffroy and "Uebok (Gotta Run)" featuring Instasamka.
In addition to talented collaborators Geoffroy, Lia, Yizzy, Instasamka, Tech N9ne, Vo Williams, High Klassified, Cherry Lena, Slumberjack, Waisu, Wifisfuneral, and Kroy on the album, the Montreal based artist enlisted a Prague-based 70-piece orchestra to play and record the compositions in their entirety.
Apashe says that "Classical music is so pure and electronic music is so raw, I have always loved to fuse them together. For this album I tried to do what has barely been done before in the electronic music scene: Compose with a symphonic orchestra, extract its epicness and delicacy, then blend it with something big and rough."
Various tracks from the album have been supported by the likes of Lektrique, Zeds Dead, WHIPPED CREAM, Lucille Croft, and Don Diablo.
Apashe's songs have been licensed for a number of movie trailers, including the Fast & Furious, John Wick, and Kingsmen franchises, and have also been featured in TV commercials for the likes of Adidas, GoPro, MTV, HBO, and Netflix.
Apashe – Facebook / Twitter / Instagram / Soundcloud
Apashe – Renaissance (Album) Tracklist:
01. Apashe – Overture
02. Apashe – Distance ft. Geoffroy (Original Mix)
03. Apashe – Behind My Eyes ft. Lia (Original Mix)
04. Apashe – Lord & Master (Original Mix)
05. Apashe – Dead ft. Yizzy (Original Mix)
06. Apashe – Uebok (Gotta Run) ft. Instasamka (Original Mix)
07. Apashe – Good News (Original Mix)
08. Apashe – Insane ft. Tech N9ne (Original Mix)
09. Apashe – Work ft. Vo Williams (Original Mix)
10. Apashe & High Klassified – I'm Fine ft. Cherry Lena (Original Mix)
11. Apashe & Slumberjack – Legend ft. Wasiu (Original Mix)
12. Apashe – Green Crack ft. Wifisfuneral (Original Mix)
13. Apashe – Rain ft. Kroy (Original Mix)