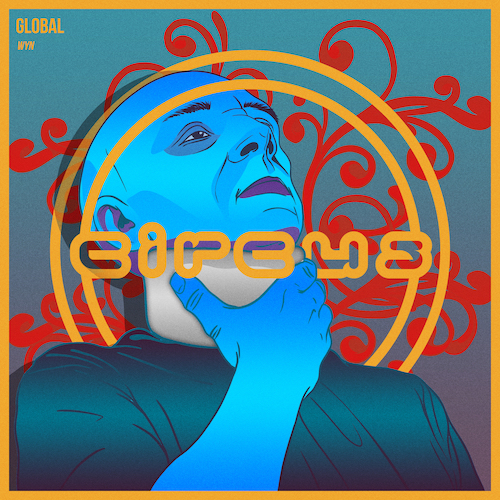 Don't let the soft and unassuming intro to Gl0bal's latest track "WYN" throw you off. After all, "WYN" stands for "Watch Your Neck"! Mickhel Patterson's next tune with thunderous bass and screeching synths was released on Flux Pavilion and Doctor P's Circus Records, a label the Canadian artist has become quite familair with over the past year.
Read on for an interview with Gl0bal as he talks about creating "WYN", the Lockdown online music festival he is a part of taking place this Saturday, and a few artists to be on the look out for!
Hey Gl0bal, thanks for your time today. How are you holding up, all things considered?
Of course, thanks for reaching out! I'm holding up pretty good all things considered. The area I am located in wasn't hit too bad so just following the health guidelines and riding this thing out!
Your new song "WYN" was released last week on Circus Records. How long did it take to get from the initial idea to the finished product, and what was your favorite part in creating the track?
I would say from start to finish including master, etc., about a month. I like to step back from my records to give my ears a break and work on other stuff or I'll end up tweaking it to too much. The basic full structure of the record was done within a week though.
My favorite part of the track was playing with the bass and making sure those were hitting right. Also adding in those little fx features like the baby crying. I have a whole pack full of horror movie samples, so I was having an interesting time going through those lol.
How did you first get in touch with Flux Pavilion, Doctor P, and the guys at Circus Records?
I got in touch with them through their manager. We were in contact going back and forth with some tunes and they were digging some of my stuff, then my "Insomnia" release happened.
What's the feeling when you see big name DJs such as DJ Snake, The Chainsmokers, Dillon Francis, and Excision support your tunes?
It never gets old to be honest, at least for me! You get a weird rush, smile, confirmation that your music is hitting right, and then tell ya self "keep cooking"!
You are part of a group that's organizing Lockdown, an online music festival taking place this Saturday April 18 from 1pm-8pm PST. Can you tell us about the DJs set to play and Music Heals, the organization the festival is supporting?
Thanks for taking a look! My friend Tana (So Sus) and I were of course pretty bummed like other dance music fans to see that most likely 2020 would be canceled for all shows. We thought it would be a fun idea to round up a few DJ's to each perform a 30 minute set on Twitch for fans to hang out and watch!
We have a few notable names like Holly, Tails, Benzi, and Moore Kismet who have been killing the scene, so it's pretty exciting to have them on board. It's all going to be a good, fun way for all parties involved to sort of introduce themselves and have fun, including the individuals who have donated their time to assist with the visuals!
We are also going to use this time to fundraise for a not for profit called Music Heals. Music Heals is based in Vancouver, British Columbia and they raise funds to increase music therapy awareness in Canada. Music therapy is used in places such as children's hospitals and senior centers. It can help with depression and anxiety. It's extremely important and we believe donating to them is a good fit.
Come check out our event (its free!) @ Twitch.tv/sosusbeats from 1pm-8pm PST this Saturday April 18.
Favorite song of 2020 so far: Drake – Toosie Slide (CANADA)
Best track to play at peak time: Gl0bal & RAAKMO – Slept On ft. Malcolm Flex! (Of course)
Vocalist you'd most like to work with: For my soft stuff, if I had a SZA or Halsey vocal I'd do damage. I REALLY want a Lil Jon feature.
Upcoming artist(s) to watch for in 2020:
So Sus is super talented and in my opinion he's slept on big time, definitely check out his stuff.
Rickflxx is an artist from Korea that I am working with at the moment, I would watch out for him. We got some crazy stuff on the way.
Take a listen to "WYN" by Gl0bal below, and be sure to check out Lockdown this Saturday!
Gl0bal – Facebook / Twitter / Instagram / Soundcloud