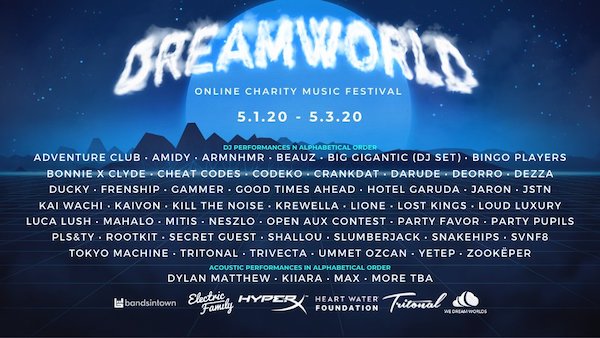 Electric Family and We Dream Worlds have teamed up to give us Dreamworld, an online music festival taking place today Friday May 1 through Sunday May 3.
Scheduled to play today Friday May 1 are Trivecta, Win and Woo, Tritonal, Party Favor, SAYMYNAME, MitiS, Good Times Ahead, Kaivon, Dirtyphonics, Dezza, MYRNE, and more.
Saturday Saturday May 2 will see Luca Lush, Crankdat, Kill The Noise, Dylan Matthew, Adventure Club, Deorro, ARMNHMR, Gammer, Yetep, DUCKY, and others.
Performers on Sunday May 3 include the likes of Bingo Players, Ummet Ozcan, Big Gigantic, BONNIE X CLYDE, CID, Kiiara, Snakehips, Loud Luxury, JT Roach, Haliene, Emilie Brandt, Mahalo, Jaron, and Darude.
100% of the proceeds will be donated to The Heart Water Foundation – a nonprofit organization currently dedicated to providing emergency resources to facilities in need during the COVID-19 pandemic
Electric Family – Facebook / Twitter / Instagram / Website
We Dream Worlds – Facebook / Twitter / Instagram / Website
Friday May 1 Lineup:
Sam Feldt, Hotel Garuda, Krewella, Trivecta, SVNF8, Win and Woo, AMIDY, Codeko, Frenship, Tokyo Machine, Tritonal, Party Favor, SAYMYNAME, SENZA, Cheat Codes, MitiS, Good Times Ahead, PLS&TY, Kaivon, Dirtyphonics, Dezza, MYRNE, HoneyComeBear, android52
Saturday May 2 Lineup:
Luca Lush, ZooKeper, Crankdat, Kai Wachi, ALVYN, Kill The Noise, Katie Pearlman, Midnight Kids, Party Pupils, Dylan Matthew, Max, Neszlo, Adventure Club, Deorro, ARMNHMR, Gammer, BEAUZ, Yetep, Ducky, Rootkit, Hyper Potions, Subtact, James Landing, Aiobahn
Sunday May 3 Lineup:
Open Aux Contest winner: Yellowtael, Bingo Players, Ummet Ozcan, Slumberjack, Big Gigantic, Shallou, JSTN, BONNIE X CLYDE, CID, Kiiara, Snakehips, Loud Luxury, DJ Soda, JT Roach, Haliene, Emilie Brandt, Mahalo, Secret Guest, Jaron, LIONE, Darude