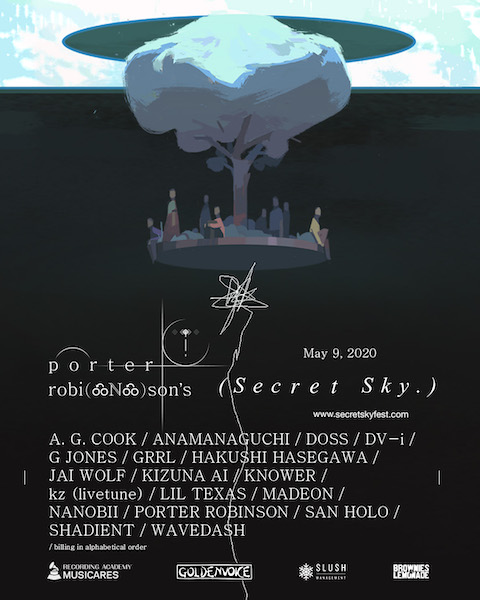 Porter Robinson's Secret Sky music festival will be taking place this Saturday May 9. The event is being held with the support of The Recording Academy MusiCares, Goldenvoice, Slush Management, and Brownies & Lemonade. Secret Sky will be broadcasted starting at 11am PST this Saturday through his custom designed digital auditorium, YouTube, Twitch, and PlayStation via the Littlstar App.
Performing alongside Porter Robinson will be A.G. Cook, Anamanaguchi, Doss, DV-i, G Jones, GRRL, Hakushi Hasegawa, Jai Wolf, Kizuna AI, KNOWER, kz (livetune), Lil Texas, Madeon, nanobii, San Holo, Shadient, and WAVEDASH.
Check here for set times or see below!
Check out the playlist Robinson created for the event, which features two of his favorite songs from each artist playing at the online festival.
100% of the proceeds will go to the MusiCares COVID-19 relief fund, a charitable foundation from The Recording Academy (who put on the Grammy Awards each year) that assists those in the music community affected by the Coronavirus pandemic.
Postmates is offering free delivery through their virtual festival booth where guests can order food and drinks to be delivered from their local restaurants. The offer applies to orders of $10 or more during the event for those using the coupon code SECRETSKY, and Postmates will donate $1 to the MusicCares COVID-10 relief fund for each order.
Porter Robinson – Facebook / Twitter / Instagram / Soundcloud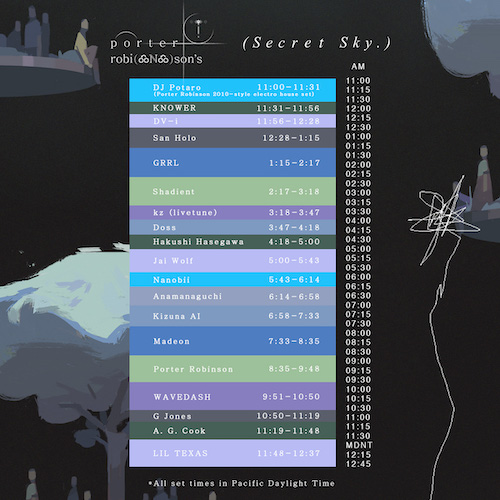 Saturday May 9 Lineup:
A.G. Cook, Anamanaguchi, Doss, DV-i, G Jones, GRRL, Hakushi Hasegawa, Jai Wolf, Kizuna AI, KNOWER, kz (livetune), Lil Texas, Madeon, nanobii, Porter Robinson, San Holo, Shadient, WAVEDASH