Global Dance Digital Festival will be taking place this Saturday May 9 and Sunday May 10. The event will run from 12pm to 12am both days, with a variety of talented artists taking the stage (stream?) on on Cardinal Now's Twitch channel.
Saturday will see the likes of SWARM, Crystal Skies, Champagne Drip, Blanke, QUIX, TYNAN, Nitti Gritti, Crankdat, Sullivan King, Doctor P, FuntCase, and more.
Sunday's list of performers includes Hex Cougar, Juelz, BIJOU, Big Gigantic, StayLoose, Kendoll, Trivecta, DUCKY, Vincent, JVNA, Wuki, Dr. Fresch, Nostalgix, and others.
Check here for set times or see below!
100% of the proceeds will benefit Direct Relief, a nonprofit organization that supports health care workers on the front lines.
Global Dance Digital Festival – Facebook / Twitter / Instagram / Website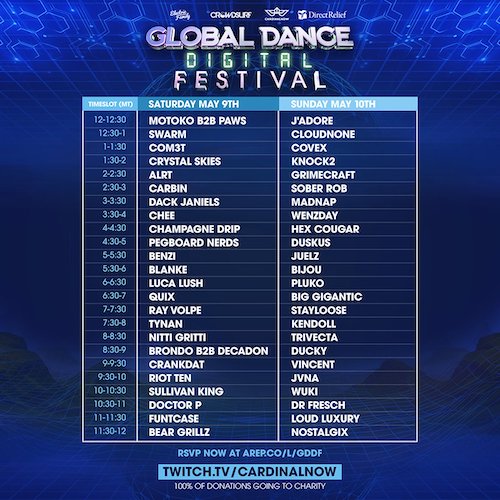 Saturday May 9 Lineup:
Motoko b2b Paws, SWARM, COM3T, Crystal Skies, ALRT, Carbin, Dack Janiels, Chee, Champagne Drip, Pegboard Nerds, Benzi, Blanke, Luca Lush, QUIX, Ray Volpe, TYNAN, Nitti Gritti, Brondo b2b Decadon, Crankdat, RIOT TEN, Sullivan King, Doctor P, FuntCase, Bear Grillz
Sunday May 10 Lineup:
J'Adore, CloudNone, Covex, Knock2, GRIMECRAFT, Sober Rob, Madnap, Wenzday, Hex Cougar, Duskus, Juelz, BIJOU, pluko, Big Gigantic, StayLoose, Kendoll, Trivecta, DUCKY, Vincent, JVNA, Wuki, Dr. Fresch, Loud Luxury, Nostalgix