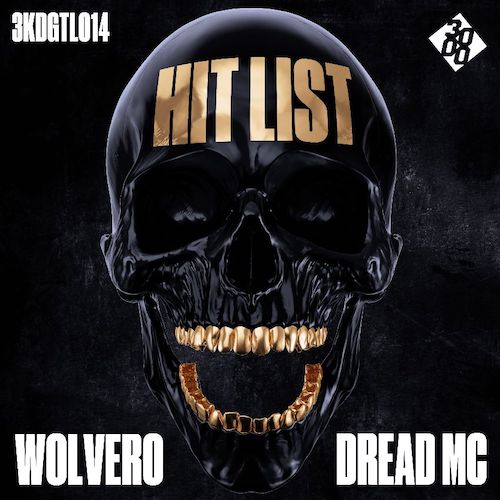 San Francisco based Alex Pardini has teamed up with Bristol based artist Dread MC for a pumping bass house track called "Hit List". Driving basslines and punchy drums are used with Mikel Medley's recognizable vocals on the release from 3000 Bass.
Wolvero has had his songs put out on labels such as Digital Empire Records, Play Records, Red Lizard Records, Octane Recordings, and Speedsound REC.
United Kingdom native Dread MC has previously worked with the likes of Shift K3Y, AC Slater, Redlight, Chris Lorenzo, Flava D, Holy Goof, Volac, BIJOU, Dr. Fresch, Taiki Nulight, and Kendoll.
Read on for an interview with Wolvero as he talks about his DJing and production journey, how "Hit List" came together with Dread MC, and how his heavy metal experience helped get him to where he is today!
Hey Wolvero! Thanks for taking some time today to chat. How's life for you up in the Bay Area?
Thanks for having me, its great to chat! It's been interesting with the whole quarantine situation, to the say the least. A couple of my shows have been canceled, but luckily I still have a full-time job and have been getting work done in the studio. At first I felt super discouraged but eventually I got used to the new normal, and gained motivation from doing live streams.
For those who are hearing about you for the first time, tell us a bit about yourself and how it's all lead up to where you are today.
It's been a long journey. I began playing the guitar and keyboard at an early age, and was part of my high school's symphonic band and drum line. At around the same time, I joined an after school metal band with a couple of close friends. This helped me refine a unique creative process that has stuck with me since. When I graduated high school (circa 2011), I began DJing in dubstep and electro house. I discovered house a couple of years later, and began producing house tracks under the alias "Alex P Beats". I started regularly playing at underground raves in Oakland, CA and eventually landed my first gigs at SF clubs. I rebranded to "Wolvero" in 2017 and have been regularly releasing tracks and playing shows ever since.
Your latest track in "Hit List" with Dread MC is out now. How long did it take for the song to come together, and what was it like working with Dread MC?
I kicked off this project last September – it was pretty much a completely different song than the final product. There's only a few remaining elements from the first version such as the melody and build. Once I got Dread MC on board, I sat down and went through a few more versions until we were both happy with the final result! Dread was great to work with and had a clear direction on where he wanted to go with the track.
The song was released on 3000 Bass, a record label based in London. Being from San Francisco, how did you first get in touch with the imprint and decide to release from there?
I reached out to 3000 Bass a number of times previous to this release via email. Alan and the team are always amazing to work with. This track sounds right at home on 3000 Bass and I'm happy to form part of their roster.
How has your previous years of experience in composing music for a heavy metal band helped you out in this different avenue?
I think the biggest thing for me was the music theory I picked up. I took years of guitar lessons, drum lessons, piano, and ukulele. I'm versatile with different styles and always dissecting music when I hear it, no matter the genre. This has helped me learn what makes a song connect with people and get the floor moving.
Favorite song of 2020 so far: Wax Motif – Keep Raving
Best track to play at peak time: Drezo – Heaven
Vocalist you'd most like to work with: Emma Hewitt
Upcoming artist(s) to watch for in 2020: NuKid, Qlank, and FreeFall
Check out "Hit List" by Wolvero featuring Dread MC below!
Wolvero – Facebook / Twitter / Instagram / Soundcloud
Dread MC – Facebook / Twitter / Instagram / Soundcloud