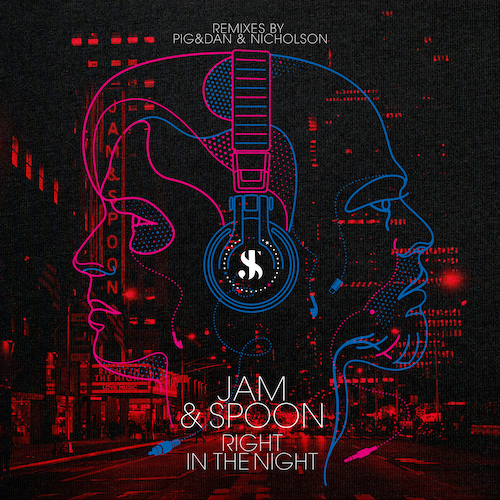 German duo Jam & Spoon's "Right In The Night" featuring Plavka was originally released in October 1993 from Dance Pool. Twenty six years later, Pig&Dan and Nicholson have each put their own unique spin on the tune out now on Black Hole Recordings, which is originally based on "Leyenda" by the classical composer Isaac Albéniz (check out this guitar version from Andres Segovia!).
First up is a dark and brooding techno remix from Pig&Dan, a British/Spanish duo consisting of Dan Duncan and Igor Tchkotoua. The guys met back in 1999 on a flight to Mallorca, Spain, when Dan was a resident DJ at Ministry of Sound and touring globally, and Igor was playing at underground raves and producing music under the name Tropic 39.
It wasn't until 2001 when the guys reconnected through a mutual friend and started collaborating together. Since then, their songs have been on imprints like Soma Records, Drumcode, mau5trap, and Cr2 Records, in addition to their own label in ELEVATE. The guys played their version live at CRSSD Spring 2020, with Aly & Fila and Solarstone also supporting their remix.
The second remix is a heart pounding trance take from Londoner Carl Nicholson, who makes great use of the flamenco style guitar chords from the original. Although Carl Nicholson started this trance project in 2013, he first started out as a hardcore MC in 1990 and later as a hard dance artist in 1995.
Nicholson has had releases on labels such as Magik Muzik, Perfecto Fluoro, Universal Nation, Pharmacy Music, and Vandit Records. Supporters of his remix include Bobina and Steve Allen.
Pig&Dan – Facebook / Twitter / Instagram / Soundcloud
Nicholson – Facebook / Twitter / Instagram / Soundcloud