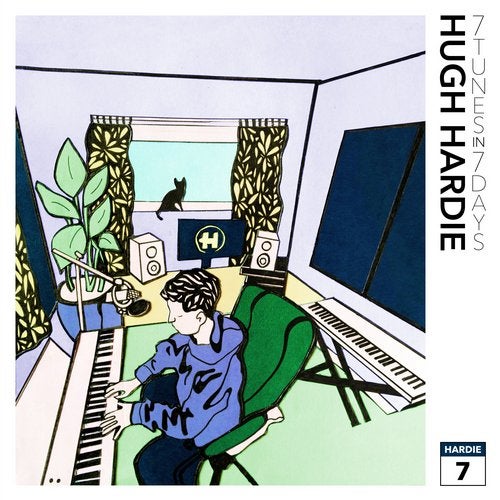 Hugh Hardie's "7 Tunes In 7 Days" EP is exactly what it sounds like: the Bristol based artist challenged himself to create a brand new track from scratch seven days in a row. Those seven days between March 30 and April 5 resulted in the finished products called "Day 1: Back & Forth", "Day 2: Loose Leaf", "Day 3: Klaxon", "Day 4: CNK", "Day 5: Ticker", "Day 6: Bending Light" featuring Pola & Bryson, and "Day 7: Gretchen Bass". The set was released on noted drum and bass imprint London based Hospital Records, which was founded in 1996.
When the EP was put out late last month, Hardie held a special "7 Tunes In 7 Days" Release Day Stream, where in addition to playing his seven new tracks and some previous songs of his, he also dropped tunes by Calibre, Mitekiss, Submorphics, GLXY, Lenzman, Halogenix, and more. Furthermore, Hardie posted a "Making Of" series for each of the tunes he created on his Youtube channel.
Various tracks from the EP have been supported by London Elektricity on Hospital Podcast 419 and Wilkinson in his livestream set for DJ Mag.
Hugh Hardie – Facebook / Twitter / Instagram / Soundcloud
Hugh Hardie – 7 Tunes In 7 Days EP Tracklist:
01. Hugh Hardie – Day 1: Back & Forth (Original Mix)
02. Hugh Hardie – Day 2: Loose Leaf (Original Mix)
03. Hugh Hardie – Day 3: Klaxon (Original Mix)
04. Hugh Hardie – Day 4: CNK (Original Mix)
05. Hugh Hardie – Day 5: Ticker (Original Mix)
06. Hugh Hardie – Day 6: Bending Light ft. Pola & Bryson (Original Mix)
07. Hugh Hardie – Day 7: Gretchen bass (Original Mix)