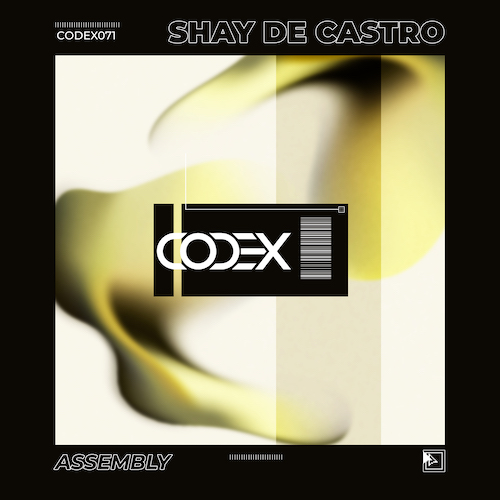 With a list of supporters that includes the likes of Amelie Lens, UMEK, Luigi Madonna, Enrico Sangiuliano, and T78, it's easy to see why you should keep an eye on the rapidly rising Shay De Castro. The Los Angeles native makes her debut on Codex Recordings with a three track techno EP titled "Assembly". In addition to the title song, the set also includes "Incendium" and "She Reigns".
Read on for an interview with De Castro as she talks about Codex Recordings, the difference in creating a set for a podcast versus a live crowd, and how she overcame one of her biggest obstacles!
Hey Shay, thanks for your time today! How has the first half of 2020 been for you?
Hey there! Thanks for having me! It's definitely been…unexpected, that's for sure! There's been a lot of time for introspection, making music, and trying not to argue with strangers on the internet.
Your "Assembly" EP marks your debut on Codex Recordings. Why did you decide that the Barcelona based label was the right fit?
I've always had a ton of respect for Spartaque as an artist, person, and label owner. He really understands the importance of great music, along with great marketing and puts a lot of effort into helping other artists. All of those factors combined with amazing artists, I think are a big reason why Codex is so successful. It was really a no-brainer for me, since Codex was one of my dream labels to sign to.
I had a chance to listen to your recent mix for Under Los Angeles. Is there a difference when you create a set for a podcast versus a live crowd?
Thanks for tuning in! Absolutely. When I record a podcast, I really try to start out with more hypnotic tunes that are great to vibe to and progressively increase the energy. With live crowds, nah…it's banging right out of the gate! There's no limits.
What was one of the biggest obstacles you overcame to get to where you are today?
Self-doubt 100%. The truth is, we can be our biggest obstacles without even realizing it. We tell ourselves these stories of what we deserve, who we are as people, and unfortunately a lot of times these are negative. I've had to consciously change that and be my own biggest fan, because if you're not a fan of what you do, who else is going to be?
Can you tell us what the summer season has in store for you?
I do have some gigs locked down, so we'll see how those play out with the current state of events. Other than that, I'll be working on music and improving my skills. Hopefully some travel, too! I actually miss delayed flights and airport food quite a bit.
Favorite song of 2020 so far: Simulade – Ellisse.
Best track to play at peak time: Anything by Klangkuenstler or Viper Diva.
Vocalist you'd most like to work with: JES, for sure! I know she hasn't branched into techno, but I think it'd pair perfectly.
Upcoming artist(s) to watch for in 2020: Chemtrailz, Damian Cassar, and Luis Miranda are all insanely talented!
Check out Shay De Castro's "Assembly" EP below and give her a follow!
Shay De Castro – Facebook / Twitter / Instagram / Soundcloud
Shay De Castro – Assembly EP Tracklist:
01. Shay De Castro – Assembly (Original Mix)
02. Shay De Castro – Incendium (Original  Mix)
03. Shay De Castro – She Reigns (Original Mix)