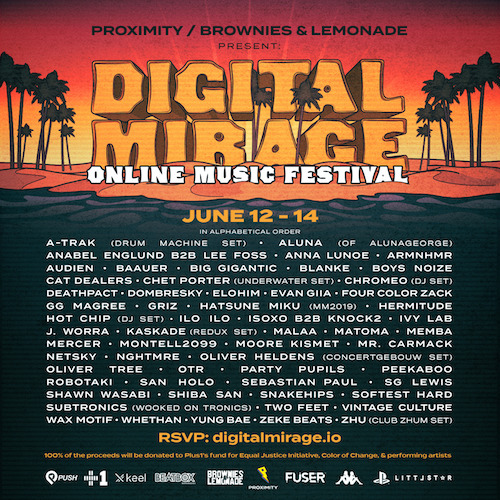 Proximity and Brownies & Lemonade held the first edition of Digital Mirage near the beginning of April. Digital Mirage 2 is up and running right now, taking place Friday June 12, Saturday June 13, and Sunday June 14. Check out the set times below or right here for over 50 artists who are set to play over the weekend.
Friday will see Oliver Heldens, Audien, Chet Porter, Shiba San, Matoma, Dombresky, J. Worra, Chromeo (DJ Set), Cat Dealers, Big Gigantic, Blanke, ZHU (Club ZHUM Set), Malaa, Subtronics, Deathpact, MEMBA, Moore Kismet, OTR, Montell2099, and Softest Hard.
Scheduled to perform on Saturday are San Holo, Mercer, SG Lewis, Aluna (AlunaGeorge), Netsky, Anabel Englund b2b Lee Foss, GG Magree, ARMNHMR, Vintage Culture, A-Trak (Drum Machine Set), Snakehips, Anna Lunoe, Kaskade (Redux Set), Wax Motif, Boys Noize, Hatsune Miku (MM2019), ISOxo b2b Knock2, Ivy Lab, and EVAN GIIA.
Sunday will have the likes of GRiZ, Two Feet, Yung Bae, Four Color Zack, ilo ilo, Sebastian Paul, Hermitude, Robotaki, Hot Chip (DJ Set), Whethan, Elohim, Oliver Tree, Mr. Carmack, Baauer, NGHTMRE, PEEKABOO, Party Pupils, Zeke Beats, and Shawn Wasabi.
Sets will be broadcast on Proximity's Youtube channel and PlayStation Network via Littlstar. 100% of the proceeds will be donated to Plus1's fund for Equal Justice Initiative, Color of Change, and performing artists.
Proximity – Facebook / Twitter / Instagram / Soundcloud / Youtube
Brownies & Lemonade – Facebook / Twitter / Instagram / Soundcloud / Website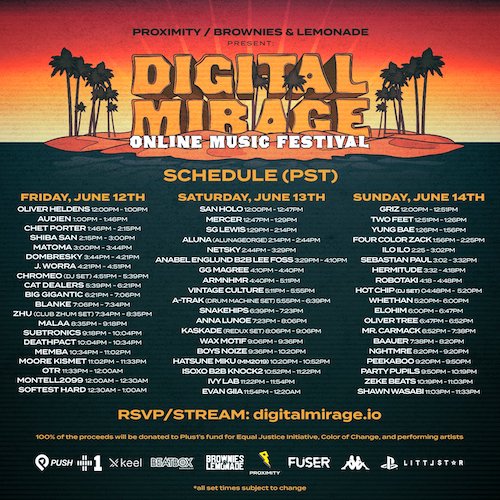 Friday June 12 Lineup:
Oliver Heldens, Audien, Chet Porter, Shiba San, Matoma, Dombresky, J. Worra, Chromeo (DJ Set), Cat Dealers, Big Gigantic, Blanke, ZHU (Club ZHUM Set), Malaa, Subtronics, Deathpact, MEMBA, Moore Kismet, OTR, Montell2099, Softest Hard
Saturday June 13 Lineup:
San Holo, Mercer, SG Lewis, Aluna (AlunaGeorge), Netsky, Anabel Englund b2b Lee Foss, GG Magree, ARMNHMR, Vintage Culture, A-Trak (Drum Machine Set), Snakehips, Anna Lunoe, Kaskade (Redux Set), Wax Motif, Boys Noize, Hatsune Miku (MM2019), ISOxo b2b Knock2, Ivy Lab, EVAN GIIA
Sunday June 14 Lineup:
GRiZ, Two Feet, Yung Bae, Four Color Zack, ilo ilo, Sebastian Paul, Hermitude, Robotaki, Hot Chip (DJ Set), Whethan, Elohim, Oliver Tree, Mr. Carmack, Baauer, NGHTMRE, PEEKABOO, Party Pupils, Zeke Beats, Shawn Wasabi