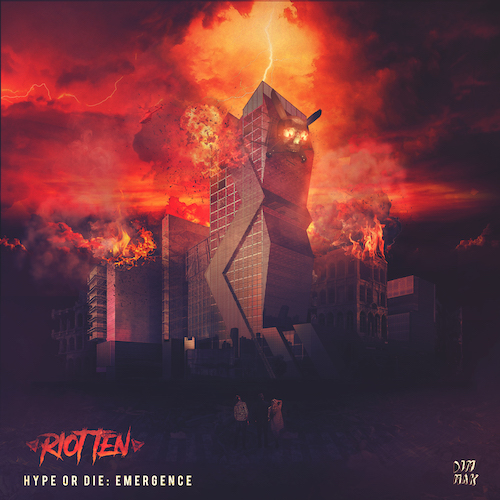 Riot Ten's new collaboration heavy "Hype Or Die: Emergence" EP combines his signature dubstep sounds with some hard hitting trap, Latin instrumentals, and even a bit of psytrance. Chris Wilson works with DirtySnatcha on "Bring It Back", Shaquille O'Neal on "Ultimate" featuring T-Wayne, Whales on "Save You" featuring Megan Stokes, Stoutty on "Buck" featuring Bok Nero, and Madreckless on "Narcos". He also includes VIP mixes of "Save You" and "Rail Breaker" featuring Rico Act, which was heard at numerous stages during the summer 2017 festival circuit, in the set from Steve Aoki's Dim Mak Records.
The El Paso, Texas native states that "I wanted to create something that was different from my previous bodies of work, yet still embodied that "Hype Or Die" aura. I named my EP 'Emergence,' due to the chaos in the world now coming to light. It is symbolic of how many have felt for some time now..and so we have risen. I stand in solidarity with those fighting injustice."
Riot Ten has previously played at major festivals such as EDC Las Vegas, Coachella, Nocturnal Wonderland, Electric Zoo, EDC Mexico, Lost Lands, EDC Orlando, Global Dance Festival, Electric Forest, Bass Canyon, Imagine Music Festival, and more.
Riot Ten – Facebook / Twitter / Instagram / Soundcloud
Riot Ten – Hype Or Die: Emergence EP Tracklist:
01. Riot Ten & DirtySnatcha – Bring It Back (Original Mix)
02. Riot Ten & Shaquille O'Neal – Ultimate ft. T-Wayne (Original Mix)
03. Riot Ten & Whales – Save You ft. Megan Stokes (Original Mix)
04. Riot Ten & Stoutty – Buck ft. Bok Nero (Original Mix)
05. Riot Ten & Madreckless – Narcos (Original Mix)
06. Riot Ten & Whales – Save You ft. Megan Stokes (VIP Mix)
07. Riot Ten – Rail Breaker ft. Rico Act (VIP Mix)