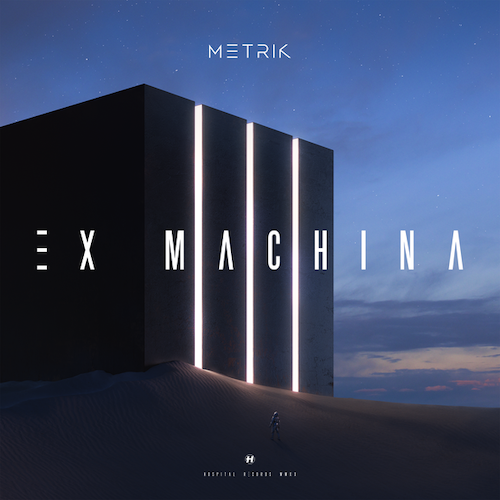 One of the albums I've been looking forward to most this year since it was announced was "Ex Machina" by the immensely talented Metrik. The 13 track high octane drum and bass album was released on Hospital Records, which is located in South London and was founded in 1996. The United Kingdom native includes a few previously released tunes in the set, such as "Hackers", in addition to collaborations with Bristol based Grafix and Australian artist ShockOne.
Featuring his own vocals and songwriting, the third album from Tom Mundell contains a number of dance floor weapons and heavy hitters. Some of my favorites from the set include "Automata", "Paralell", "Closer", "Hackers", "Ex Machina", and "Dying Light".
Metrik had been hosting his own weekly Ex Machina Sessions live and direct from his studio where the album was created, leading up to the 13th episode which was the Ex Machina Virtual Album Launch, a day before the album's official release. The live stream was an "immersive audio/visual experience and exclusive preview of the full album", where he also played some of his older tracks near the end as well.
Various songs from the album have already been supported by the likes of London Elektricity, Andy C, Sub Focus, Friction, Annie Mac, NGHTMRE and SLANDER, Illenium, Maduk, Rene LaVice, Pendulum, The Prototypes, Kove, Annie Nightingale, MistaJam, Blanke, Culture Shock, Dimension, Wilkinson, Delta Heavy, Flava D, Friction, Black Sun Empire, Loadstar, Cyantific, Kanine, Reid Speed, GG Magree, Teddy Killerz, Voicians, and The Aston Shuffle.
Metrik – Facebook / Twitter / Instagram / Soundcloud
Buy / Stream
Metrik – Ex Machina (Album) Tracklist:
01. Metrik – Automata (Original Mix)
02. Metrik – Parallel ft. Grafix (Original Mix)
03. Metrik – Closer (Original Mix)
04. Metrik – We Are The Energy (Original Mix)
05. Metrik – Hackers (Original Mix)
06. Metrik – Ascension (Original Mix)
07. Metrik – Gravity (Original Mix)
08. Metrik – Time To Let Go (Original Mix)
09. Metrik – Ex Machina (Original Mix)
10. Metrik – Dying Light ft. ShockOne (Original Mix)
11. Metrik – Shadows (Original Mix)
12. Metrik – Thunderblade (Original Mix)
13. Metrik – Requiem (Original Mix)