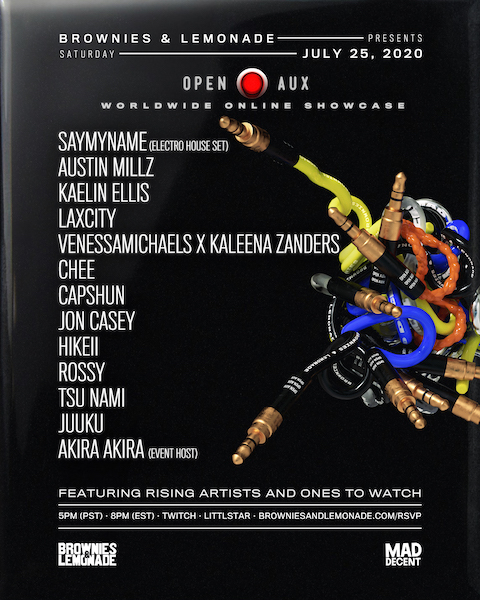 This Saturday July 25, Brownies & Lemonade will be hosting another livestream event, this time called Open Aux. The livestream will start at 5pm PDT on Twitch and PlayStation's Littlstar and features rising artists and ones to watch. The Brownies & Lemonade team had previously put together Digital Mirage in April and Digital Mirage 2 in June with Proximity.
Before dropping the lineup for Open Aux on Monday, Brownies & Lemonade tweeted that there will be "lots of variety represented too with trap, bass, electro house, hip hop, experimental beats, global sounds, club, and lots of cutting edge music".
With support from Diplo's Mad Decent record label, the event will include an electro house set from Austin Millz, KAELIN ELLIS, Laxcity, VenessaMichaels x Kaleena Zanders, Chee, Capshun, Jon Casey, Hikeii, Rossy, Tsu Nami, juuku, and event host Akira Akira. SAYMYNAME was originally scheduled to perform, but gave his spot to a rising artist in chromonicci, who then had to drop out due to equipment issues, with Chuck Sutton taking his place on the lineup. Check out the set times below!
All stream proceeds will benefit the performing artists.
Brownies & Lemonade – Facebook / Twitter / Instagram / Soundcloud / Website
Brownies & Lemonade Presents: Open Aux Lineup:
Austin Millz, KAELIN ELLIS, Laxcity, VenessaMichaels x Kaleena Zanders, Chee, Capshun, Jon Casey, Hikeii, Rossy, Tsu Nami, juuku, Chuck Sutton, Akira Akira (Event Host)