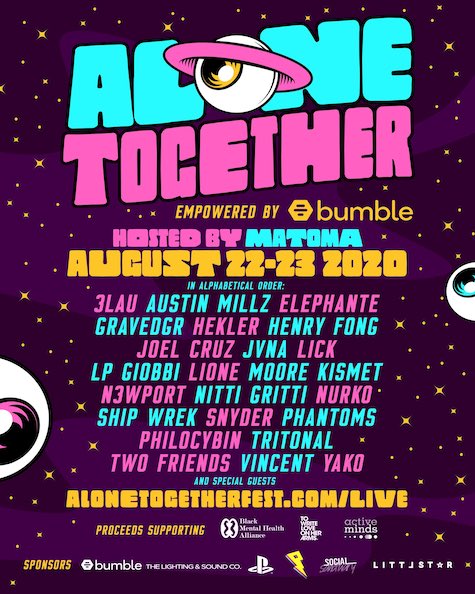 This Friday August 22 and Saturday August 23, Matoma will be hosting Alone Together in support of mental health awareness. In addition to the 20 plus artists on the live stream, there will also be a range of mental health speakers through the Positive Vibes Speaker Series, presented by Bumble, which "is designed to open a discussion around mental health awareness and how artists can use the industry to challenge the stigma behind mental health."
The two day online music festival will feature the likes of 3LAU, Austin Millz, Elephante, GRAVEDGR, Hekler, Henry Fong, Joel Cruz, JVNA, LICK, LP Giobbi, and LIONE. Also scheduled to perform are Moore Kismet, N3WPORT, Nitti Gritti, Nurko, Ship Wrek, SNYDER, Phantoms, Philocybin, Tritonal, Two Friends, Vincent, and Yako. Recent additions to the lineup include Trivecta, ARMNHMR, YehMe2, Drell, and Andrew Hypes, with Anna Clendening announced as a special guest speaker for the Positive Vibes Speaker Series.
The live stream can be viewed this weekend on Youtube, Twitch, Facebook, and Littlstar. Check out the set times right here!
Proceeds will support Black Mental Health Alliance, To Write Love On Her Arms, and Active Minds.
Sponsors of the event include Bumble, The Lighting & Sound Co., PlayStation, Proximity, Social Sanctuary, and Littlstar.
Alone Together – Facebook / Twitter / Instagram / Website
Alone Together – August 22-23 (Online Music Festival) Lineup:
3LAU, Austin Millz, Elephante, GRAVEDGR, Hekler, Henry Fong, Joel Cruz, JVNA, LICK, LP Giobbi, LIONE, Moore Kismet, N3WPORT, Nitti Gritti, Nurko, Ship Wrek, SNYDER, Phantoms, Philocybin, Tritonal, Two Friends, Vincent, Yako