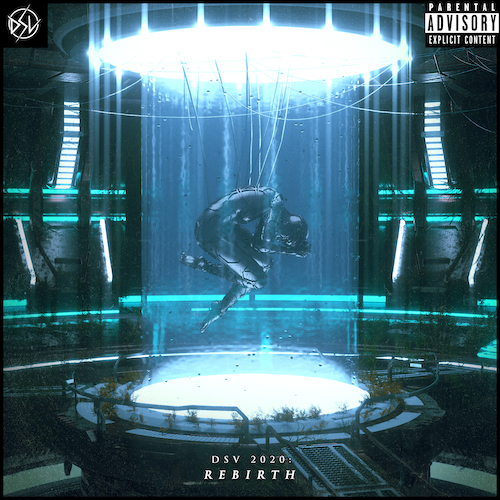 "DSV 2020: Rebirth" is the title of the 12 track compilation album from DSV Audio. The London based record label, which was launched in 2015, released the bass centric album earlier this week and is comprised of tunes from a variety of fast rising artists. BAINBRIDGE, MATT DOE and Jiqui, SpaceYeti, PR1ME, DirtySnatcha, and SPACESUIT are some of the producers included in the set.
The compilation marks the start of DSV Audio's focus on raising awareness of critical mental health issues within the music industry. Read on for a statement about the new initiative:
"In addition to serving as a showcase for the label and artists involved, the Rebirth compilation aims to shed light on the ever-growing mental health issues within the music and creative industries. As a family-run label, the creative forces behind DSV Audio understand the magnitude of shedding light on critical issues such as suicide awareness as the matter is deeply personal to them. In an effort to incite a much-needed movement within the industry, DSV Audio will be donating 50% of the proceeds they receive from the Rebirth compilation to the UK mental health charity SANE, as well as a JustGiving fundraiser. The Rebirth compilation marks the beginning of a long term movement for DSV Audio, as they plan to implement change in their release structure and cohesively boost awareness for mental health for many years to come.
As the label enters a new chapter, DSV Audio will continue to be a driving force within the bass-centric music community. The release of Rebirth is only the beginning of this new direction for the label, as they aim to continue to bring awareness to the mental health issues that plague the music industry. Intertwining their passion to give back to the community and raise consciousness with powerful bass and dubstep releases, DSV Audio takes the label to the next level and solidifies their significant place within the industry."
DSV Audio – Facebook / Twitter / Instagram / Soundcloud
DSV Audio – DSV 2020: Rebirth (Compilation Album) Tracklist:
01. Detrace – Get Out ft. NJ (Original Mix)
02. BAINBRIDGE – Skull Busta (Original Mix)
03. High Zombie & SHARPS – Contention (Original Mix)
04. MATT DOE & Jiqui – Doequi (Original Mix)
05. SpaceYeti – Burning Chrome (Original Mix)
06. Yoxide – Program Terminated (Original Mix)
70. Nyptane – Reckless (Original Mix)
08. PR1ME – Fakes (Original Mix)
09. Misfit – Armageddon (Original Mix)
10. Case Closed & PERSES – Wounded ft. NJ (Original Mix)
11. DirtySnatcha – Take You Higher (Original Mix)
12. SPACESUIT – Stimulants (Original Mix)