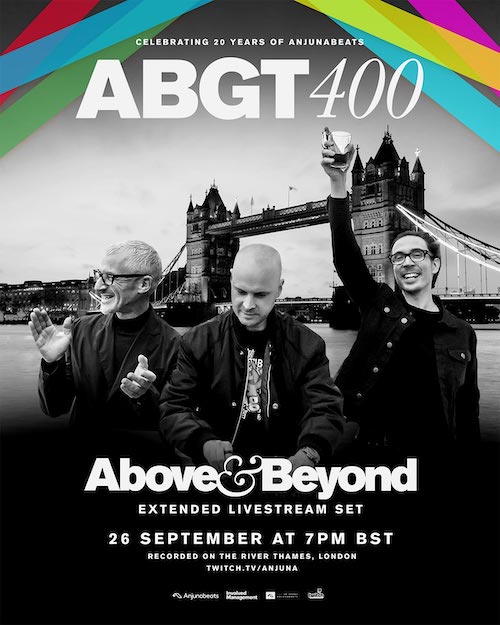 Above & Beyond will celebrate the 400th episode of their Group Therapy radio show and the 20th anniversary of their record label Anjunbeats tomorrow Saturday September 26. The episode will kickoff at 11am PDT and features a four hour extended set recorded on the River Thames from the United Kingdom based trio consisting of Jono Grant, Tony McGuinness, and Paavo Siljamäki.
The guys say that "It's very strange approaching ABGT400 without the usual late nights in the studio together finishing off tracks we've been working on over the summer. We just haven't been able to do that this year. ABGT400 will be the first time we've got together since March – that's the longest time we've been apart in 20 years.
Jono's been working on a film score, Paavo's been tinkering away at his beautiful lakeside studio in Finland, and Tony's been on a deep odyssey and discovering the joys of livestreaming.
As Paavo put it, the world is taking a deep breath, reflecting on how we've got to where we are. So, in keeping with that theme, that's what this year's Group Therapy celebrations are all about: looking back at the music that brought our family together.
Happy birthday Anjunabeats!"
Above & Beyond – Facebook / Twitter / Instagram / Soundcloud