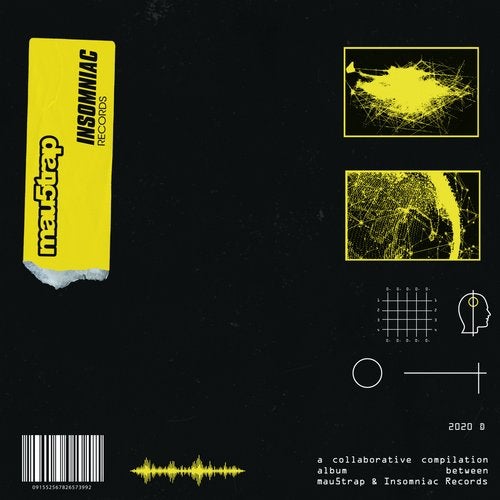 mau5trap and Insomniac Records have joined forces again for another compilation album titled "Volume 2". Following the first iteration which was released in September 2019, the two record labels highlight known producers as well as rising artists from both of their imprints. Each label takes a turn in alternating artists from their respective label in the album, with a focus on house and techno in the 12 track set.
Included in the compilation are songs from No Mana and Fay, Kyle Watson, Tommy Trash, Plastic Robots and Steve Darko, Speaker Honey, Jay Robinson and MASTERIA, SVNF8, Body Ocean, HVDES, Casmalia, Bentley Dean, and NOISES. When the album was released, Insomniac hosted a virtual livestream release party which featured sets from NOISES, Bentley Dean, Speaker Honey, MASTERIA, HVDES, Jay Robinson, Tommy Trash, No Mana, Body Ocean, Casmalia, and SVNF8.
deadmau5, also known as Joel Zimmerman, started mau5trap in 2007 with the first release being his own track in "Faxing Berlin". The record label has been home to heavy hitters like Skrillex, Feed Me, Zedd, Noisia, Dillon Francis, Chris Lake, and Madeon. It is also known for being a hotbed for talent such as REZZ, Getter, i_o, ATTLAS, No Mana, Matt Lange, and more getting their start on the label.
Insomniac Records, formed in 2014 by Insomniac CEO Pasquale Rotella, morphed into Insomniac Music Group in 2018 to extend their capabilities to offer distribution and management resources to other independent labels. Insomniac Music Group also counts sublabels like HARD Recs, Bassrush Records, IN / ROTATION, and Dreamstate Records under its umbrella, and works with artist driven imprints like Chris Lake's Black Book, NGHTMRE and SLANDER's Gud Vibrations, Fisher's Catch & Release, Justin Martin's What To Do, and Will Clarke's All We Have Is Now.
mau5trap – Facebook / Twitter / Instagram / Soundcloud
Insomniac Records – Facebook / Twitter / Instagram / Soundcloud
mau5trap x Insomniac Records: Volume 2 Tracklist:
01. No Mana – Badder Things ft. Fay (Original Mix)
02. Kyle Watson – Way Down (Original Mix)
03. Tommy Trash – 4U (Original Mix)
04. Plastic Robots & Steve Darko – Time's Up (Original Mix)
05. Speaker Honey – Space Arp (Original Mix)
06. Jay Robinson & MASTERIA – Pass That (Original Mix)
07. SVNF8 – Fuzzy (Original Mix)
08. Body Ocean – Within Reach (Original Mix)
09. HVDES – Memory of U (Original Mix)
10. Casmalia – Four Letter Word (Original Mix)
11. Bentley Dean – Avoidant (Original Mix)
12. NOISES – Work (Original Mix)