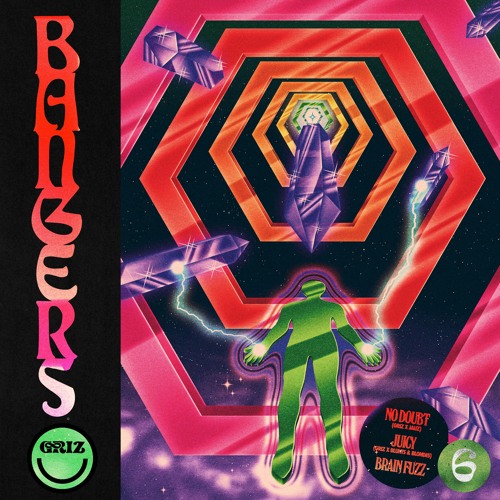 GRiZ has added to his ever growing "Bangers.Zip" series with the sixth electrifying installment. Following "Bangers[1].Zip", "Bangers[2].Zip", "Bangers[3].Zip", "Bangers[4].Zip", and "Bangers[5].Zip" is (you guessed it) the bass centric "Bangers[6].Zip" EP. Released on Zeds Dead's Deadbeats record label, the set full of dubstep heaters consists of "No Doubt" with Jauz, "Juicy" with Blunts & Blondes", and "Brain Fuzz".
Detroit native Grant Kwiecinski is known for funky and groovy tracks like "It Gets Better ft. DRAM / Can't Get Enough", "As We Proceed" with Gramatik as GRiZMATiK, "C'mon" with Big Gigantic, "Feelin' High" featuring Eric Bloom, and his "Say It Loud" album.
Sam Vogel, who is based in Los Angeles, has been behind crowd favorite tunes such as "I Dare You" with Axel Boy, a remix of "Baby Shark" by Pinkfong, "Gassed Up" with DJ Snake, "Lights Go Down" with Zeds Dead, and "Alpha".
Florida resident Michael Guard has previously impressed me with his "Smoking With Friends" EP, his remix of "Safe and Sound" by Rebelution, "McQueen Dreams" with Afterthought and Wiz Khalifa, "Hot Box", and his remix of Zeds Dead and Delta Heavy's "Lift You Up"."
GRiZ – Facebook / Twitter / Instagram / Soundcloud
Jauz – Facebook / Twitter / Instagram / Soundcloud
Blunts & Blondes – Facebook / Twitter / Instagram / Soundcloud
GRiZ – Bangers[6].Zip EP Tracklist:
01. GRiZ x Jauz – No Doubt (Original Mix)
02. GRiZ x Blunts & Blondes – Juicy (Original Mix)
03. GRiZ – Brain Fuzz (Original Mix)