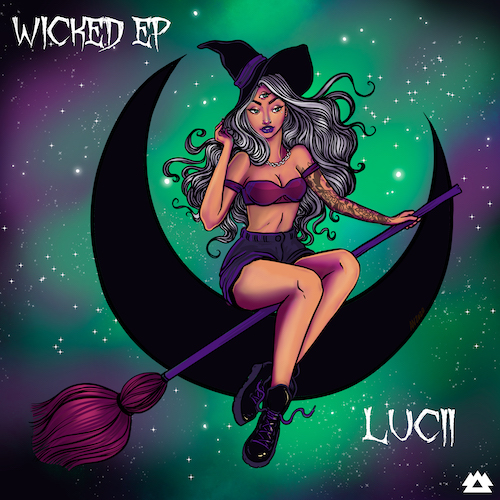 Lucii has released her four track "Wicked" EP today just in time for Halloween, her first EP since "Abduction" was put out in 2018. The set was released on Wakaan, the record label started by Liquid Stranger in 2015 where she was the first female producer to release from the imprint.
The EP includes "Spell", "Till The Day I Die" (which features Lucii on the piano as well as her own dreamy vocals), "Wonky" with Point.Blank (Belgian DJ and producer Matar Desmet), and "Vibe". Emily Rose uses psychedelic basslines and wonky beats (which is quite fitting for track number 3!) with her freeform bass style in the compelling set.
A few days ago, Lucii said that "Halloween season has always inspired me ever since I was a little kid. I remember feeling so free to express myself every year, dressing up and wearing whatever costume I wanted. Going from door to door to get the delicious candy I had been craving. The inspiration for this EP was drawn from Halloween, showing both the creepy and beautiful side of my favorite Holiday while putting it into something I love.. music.
'Spell' is a dark song about toxic love and being trapped. 'Vibe' is about letting go and feeling nothing but happiness. 'Till The Day I Die' is what Sally would have sang to Jack in 'Nightmare Before Christmas'. And 'Wonky' w/ @pointblankofficial well.. that's just it, a heavy song your gonna headbang to in your costumes. 'WICKED' is for my spooky ghouls out there, I hope you love it 🎃🖤".
The Orlando native played a few of the songs from the EP during her set for the Beyond Wonderland at the Gorge Virtual Rave-A-Thon back in June. She also played "I Need Your High" with DirtySnatcha and "Neptune", two fan favorites of hers from the past couple of years.
Lucii – Facebook / Twitter / Instagram / Soundcloud
Point.Blank – Facebook / Twitter / Instagram / Soundcloud
Lucii – Wicked EP Tracklist:
01. Lucii – Spell (Original Mix)
02. Lucii – Till The Day I Die (Original Mix)
03. Lucii & Point.Blank – Wonky (Original Mix)
04. Lucii – Vibe (Original Mix)