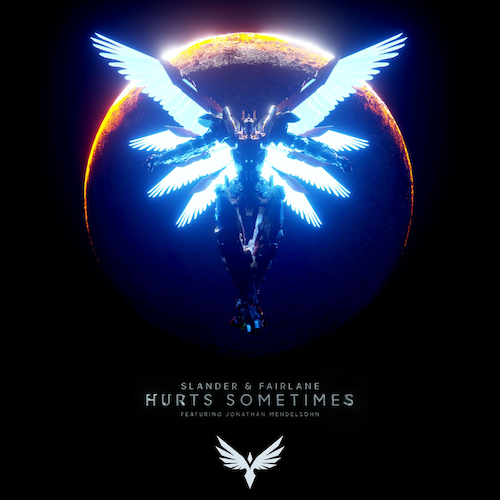 Two good things happened on Thursday: SLANDER announced their second record label in Heaven Sent and also released the first track from the imprint. SLANDER premiered their song "Hurts Sometimes" with Fairlane featuring Jonathan Mendelsohn (one of my favorite vocalists) during their set for their own Virtual Vibes Music Festival they organized on Friday October 16 (other DJs who performed include NGHTMRE, SVDDEN DEATH, WAVEDASH, and Kraysh). The record label will feature more melodic and emotional tunes in contrast to their Gud Vibrations label collaboration with NGHTMRE, which was launched in 2018.
In addition to debuting "Hurts Sometimes" during Virtual Vibes Music Festival, Los Angeles residents Derek Andersen and Scott Land played songs of theirs like "Kneel Before Me" with Crankdat featuring Asking Alexandria, "After All" with YOOKiE featuring JINŻO, their remix of "I Fall Apart" by Post Malone, "Broken" with Kompany featuring fknsyd, "You Don't Even Know Me" with RIOT featuring Delacey, "Running To You" with Spag Heddy featuring Elle Vee, and "Superhuman" featuring Eric Leva.
But wait, there's more! They also dropped their VIP of "Move Back" with WAVEDASH, "Heart Break" with Moody Good featuring KARRA, "Love Again" featuring WAVZ, "Better Than Heaven" with Jason Ross featuring JT Roach, "Potions" with Said The Sky featuring JT Roach, "First Time" with Seven Lions and Dabin featuring Dylan Matthew, and "Love Is Gone" featuring Dylan Matthew.
Multi instrumentalist Tyler Mead of Vancouver has toured alongside Illenium on his Awake 2.0 Tour, as well as with artists like Gryffin, Vanic, and William Black. Back in April, he performed during Room Service Music Festival presented by Trap Nation and Chill Nation. In the past few months, he's released "Enough" with Nevve and "Full Of Life" with Micah Martin.
Brooklyn based singer and songwriter Menselsohn's soaring, radiant, and distinctive vocals can be heard on songs like "One In A Million" with Andrew Rayel, "Imaginary" with Brennan Heart, "Close Your Eyes" with Jason Ross, "Lost" and "Miracle" with Fedde Le Grand, "Worlds Fall Apart" with Dash Berlin, and "Echo" with Hardwell.
SLANDER – Facebook / Twitter / Instagram / Soundcloud
Fairlane – Facebook / Twitter / Instagram / Soundcloud
Jonathan Mendelsohn – Facebook / Twitter / Instagram / Soundcloud