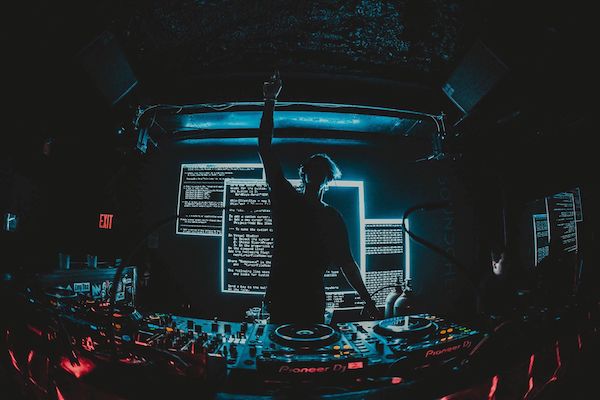 Yesterday afternoon, i_o's Twitter announced that he had passed away on Monday November 23 at the way too early age of 30. The post stated "On Monday, November 23rd the world lost a beautiful soul, Garrett Falls Lockhart, also known as i_o. This extremely talented spirit taught us that even if nothing matters, you can still lead with love. Garrett's truth and soul lives on through the music he shared. Rest in peace, Garrett. We love you."
When the news popped up on my timeline, it hit me like a ton of bricks, just like the news of Avicii two years ago. I sat at my computer for a while just staring at the screen, not knowing what to think. Garrett Lockhart had just released his take on "Castles In The Sky" by Ian Van Dahl from Armada Music this past Friday November 20 and was gone a few days later.
His sound had resonated with me since I first heard of him, whether it was something with dark basslines, his acid techno style, or songs with uplifting melodies. I pretty much played his tracks and mixes nonstop. If you needed a tune to pump you up or a song to relax to, i_o had you covered.
The Los Angeles based artist, who was originally from Washington D.C., initially caught my attention with a previous alias in Fawks. Five years ago today in 2015, the Icon Collective graduate played at the B!G Block Party at the Yost Theater in Santa Ana alongside close friends Sullivan King and Yultron, all of whom were in their early days as artists. I posted his track called "afk" from Doorn Records in 2017 and thought he would make his way to the top, though he would soon change his name to i_o a few months later.
i_o had become one of my favorite producers over the past couple of years. In 2018, I wrote about "Not Techno", his "SCRIPTKIDDI" EP, "Feel You Now" featuring Mike Schmid, and his "Low" EP. 2019 was an impressive year for i_o as he released his remix of "Imaginary Friends" by deadmau5, "404 Anonymous", "Let Me Go" with Tommy Trash featuring Daisy Guttridge, his "Death By Techno" EP, his remix of "Alchemy" by Above & Beyond featuring Zoë Johnston, and his "House Of God" EP. 2020 continued in the same manner with his remix of "Mr. Navigator" by Armin van Buuren and Tempo Giusto, his "NRG 444" EP, his remix of of "Access" by DJ Misjah and DJ Tim, his "AM 444" EP, his "révolution" EP with Raito, "In My Head", and last week's remix of "Castles In The Sky" by Ian Van Dahl.
His sets and mixes were also always on repeat for me as well. He had performed at a number of Insomniac's Virtual Rave-A-Thon's this year, such as Countdown, EDC Las Vegas, and Escape Halloween. Other sets to check out include his NEST HQ Guest Mix, Hello Friend 003, his 1001Tracklists Exclusive Mix, Hello Friend 008 (mau5trap radio Rip), his EDC Las Vegas 2019 set (Hello Friend 013), Hello Friend 015 ALL ACID mix, Kitchen Session 01, and Hello Friend 018 << the mix from the afterhours you didnt tell your friends about>>.
Numerous artists, collaborators, record labels he had released from, and industry leaders like Jauz, deadmau5, REZZ, Armin van Buuren, Pasquale Rotella, Lights, Grimes, Kayzo, Sullivan King, Ruben de Ronde, mau5trap, FuntCase, k?d, Subtronics, Orjan Nilsen, Armada Music, Ghastly, Yultron, and more shared their thoughts on i_o on Twitter and Instagram.
It will definitely be an i_o techno night tonight (or this week…this month…the rest of the year…).
Today I lost my fucking brother. My best friend. The person who I trusted more than anyone when it came to music.

Today the world lost an incredible human being and one of the most visionary, genius producers of our generation.

We love you so much. RIP Garett Falls Lockhart

— JAUZ (@Jauzofficial) November 24, 2020
Going to miss you my dude, it was a real pleasure working with you and watching you succeed… may you find rest, and let your music live on into eternity. pic.twitter.com/wwKh0prn1q

— Goat lord (@deadmau5) November 24, 2020
I really am speechless
Rest In Peace Garret

This year is fucking shit pic.twitter.com/KeTEXmB74n

— RΞZZ ☾ (@OfficialRezz) November 24, 2020
I had the pleasure of getting to know i_o over the past year. Garrett played several livestreams for us during quarantine & his smile made a lasting impression.

Rest In Peace to a beautiful soul, you will be deeply missed, may your music and spirit live on forever pic.twitter.com/K9cKiWdVuE

— Pasquale Rotella (@PasqualeRotella) November 25, 2020
Garrett was unlike anyone I'd ever met. Honest and raw. Cynical and whimsical all in one. All year we worked on music and it got me thru. Prolific as hell, talent thru the roof. Every time I look at the clock and it's 4:44 I'll think of you.
444 forever. @i_oofficial pic.twitter.com/xWRL35oWrm

— Lights (@lights) November 25, 2020
This is such a tragedy for Art. Of all my friends, I listened to Garretts music the most. It was SUCH an honor to know you. I feel crazy uncontrollably anxious and sick. I know this is touching ppl in music hard, around if any1 needs to talk. Rest In Peace Lord of Techno ⚔️ https://t.co/JQrKrey81a

— ☘︎ (@Grimezsz) November 25, 2020
It is with deep regret and profound sadness that we share the news of the loss of Icon Alum, Garrett Lockhart.

He will be forever remembered by the Collective, his friends, family and the millions of people he connected with through his music.

Rest In Peace. pic.twitter.com/MttpiWx71m

— ICON COLLΞCTIVΞ (@iconcollective) November 25, 2020
fuck no no no. I remember when I first met you in the lobby of icon collective and it was your first day of school there. We talked about how we both came from sports to do music and how excited we were for this journey. Rest In Peace Garrett @i_oofficial

— kayzo (@KayzoMusic) November 24, 2020
I can't even think straight right now.

I fucking love you so much, Garrett. If it wasn't for you, I wouldn't be where I am in music. Thank you for always lighting up every room you walked into and every stage you stepped on. I'm gonna miss you so much.

i_o forever https://t.co/eQ0E9WhzOi pic.twitter.com/CPkAHAPuLE

— Sully (@SullivanKing) November 24, 2020
— mau5trap (@mau5trap) November 24, 2020
Closed my stream today with 'In My Head', little did I know what already had happened. R.I.P. Garrett @i_oofficial one of the nicest dudes and memelord. Thinking of you @astateofhalil @rogerseeman and friends and family ❤️

— Ruben de Ronde (@rubenderonde) November 24, 2020
https://twitter.com/atdawnwerage/status/1331376226456506375
Damn so sad to hear about @I_oofficial . I only met him once when I went up to him after his set to rant about how impressed I was. Actually just made a whole playlist of his music the other day for inspiration. Crazy. RIP man, heart goes out to his loved ones

— Trivecta (@TrivectaMusic) November 25, 2020
We just received the tragic news of the passing of Garrett Lockhart a.k.a @i_oofficial. We are deeply saddened by this news and would like to offer our condolences to his family and loved ones. Our hearts are with all who share a connection to this amazing person. pic.twitter.com/VsMOCl8Ap1

— A State of Trance (@asot) November 25, 2020
this year keeps getting worse.

rest in peace i_o

— ray volpe (@rayvolpe) November 24, 2020
Garrett my dude. I had some awesome times with you man, I hope you're resting well. Say hello to cookie for me ❤️

— FuntCase | DPMO (@FuntCaseUK) November 25, 2020
rest in peace, i'm not sure how to react to this news. a lot of my friends were hit harder by this and i hope you're all ok…

i'm sorry. https://t.co/mz2CXjHctO

— k?d (@whoskid) November 24, 2020
what the fuck dude, incredibly saddened to hear about @i_oofficial

rest in peace, all of my love to the friends and family

— CYCLOPS RECORDINGS STAN ACCOUNT (@Subtronics) November 24, 2020
What a talent the world lost.. Way too young.. Never had the pleasure of meeting you Garrett, but everyone I met thought the world of you. May you rest in peace.. https://t.co/BFHXpOpz48

— Ørjan Nilsen (@orjan_nilsen) November 25, 2020
Shocked and sad to be losing such a kind, passionate and talented person and can barely find the words to say how much he will be missed. https://t.co/4SwI24nXJg

— Armada Music (@Armada) November 25, 2020
I'm at a loss for words man, I can't believe we lost you Garrett..this really hurts. You were such an inspiration to so many and myself included, I'm gonna miss you brother, I love you man.. rest in peace @i_oofficial pic.twitter.com/ak7DK14omf

— (@Ghastly) November 24, 2020
Fuck. Such a talented dude. Always a pleasure to be around. Rip. You will be missed brother https://t.co/yKsEvcogG5

— NGHTMRE (@NGHTMRE) November 25, 2020
Terrible news about I_O. Never knew him personally but was an extremely talented producer and way too young to pass away. Thought with his friends and family. RIP

— Oliver Jones (@I_Skream) November 25, 2020
I remember meeting Garrett at jauz's old apartment with Sullivan king, ghastly and ryan Collins. No one was doing anything. Just some young producers trying to find our way. I_o was just the beginning and he was taken from us. Life is un fucking fair.

— Yultron (@yultron) November 25, 2020
I didn't even personally know @i_oofficial but I appreciated his talent and his edge.

We lost one of us today 💔

My heart aches for his team @astateofhalil @tannerwilfong1 Roger etc.

If there is ever anyone who needs an ear my DMs are always open for you.

— Dave Dresden (100%) (@davedresden) November 25, 2020
RIP @i_oofficial

You were a truly incredible human being and today we mourn the loss of a light. We will love you and miss you always.

— SLANDER (@SlanderOfficial) November 25, 2020
garrett had a few projects, and when he pursued i_o, i knew it was going to be a hit. i regret not telling him more how much he inspired me and everyone else – i got jealous even at times because he pushed the dark shit better. he was a true fucking artist

— Drezo (@drezomusic) November 24, 2020
G was one of the first friends i made in the LA music scene. anyone who knew him knows how hard he worked and the passion he put into his work. i'm honestly hard-pressed to name a more deserved success story than i_o.

— aseem h_g (@hotelgaruda) November 25, 2020
https://twitter.com/itshellbound/status/1331377977687465985
crossed paths a few times over the years under different aliases, much love to everyone close to you, rest in peace man.

— jake the human (@killthenoise) November 25, 2020