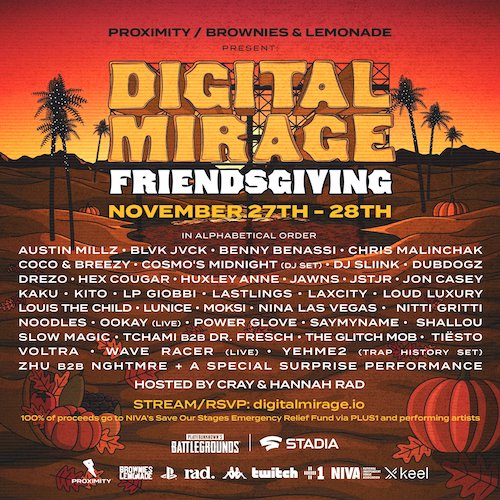 A few minutes ago, Proximity and Brownies & Lemonade launched Digital Mirage Friendsgiving, a two day online music festival. Taking place today Friday November 27 and tomorrow Saturday November 28, the livestream event will feature a number of DJs from around the world. Check out the set times below or right here for the artists who are set to play over the weekend.
Friday's livestream will be hosted by Cray, with LP Giobbi, Jon Casey, Coco & Breezy, JSTJR, Noodles, DJ Sliink, Cosmo's Midnight, Lunice, Hex Cougar, YehMe2, Wave Racer, Dubdogz, Loud Luxury, Moksi, Louis The Child, ZHU b2b NGHTMRE, The Glitch Mob, Power Glove, Lastlings, and Voltra scheduled to perform.
Saturday's livestream will be hosted by Hannah Rad and will see the likes of Kito, Chris Malinchak, Huxley Anne, Austin Millz, Slow Magic, Laxcity, Kaku, Jawns, Nina Las Vegas, Shallou, SAYMYNAME, Ookay, Benny Benassi, Tchami b2b Dr. Fresch, Tiesto, Surprise Performance, Nitti Gritti, Drezo, and BLVK JVCK.
Sets will be broadcast on YouTube, Twitch, and PlayStation (via Rad). 100% of proceeds go to NIVA's (National Independent Venue Association) Save Our Stages Emergency Relief Fund via PLUS1 and performing artists.
Proximity – Facebook / Twitter / Instagram / Soundcloud / Youtube
Brownies & Lemonade – Facebook / Twitter / Instagram / Soundcloud / Website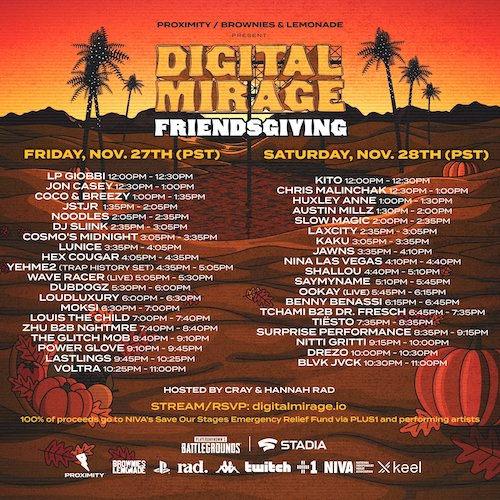 Friday November 27 Lineup:
LP Giobbi, Jon Casey, Coco & Breezy, JSTJR, Noodles, DJ Sliink, Cosmo's Midnight, Lunice, Hex Cougar, YehMe2 (Trap History Set), Wave Racer, Dubdogz, Loud Luxury, Moksi, Louis The Child, ZHU b2b NGHTMRE,  The Glitch Mob, Power Glove, Lastlings, Voltra
Saturday November 28 Lineup:
Kito, Chris Malinchak, Hukley Anne, Austin Millz, Slow Magic, Laxcity, Kaku, Jawns, Nina Las Vegas, Shallou, SAYMYNAME, Ookay (Live), Benny Benassi, Tchami b2b Dr. Fresch, Tiesto, Surprise Performance, Nitti Gritti, Drezo, BLVK JVCK