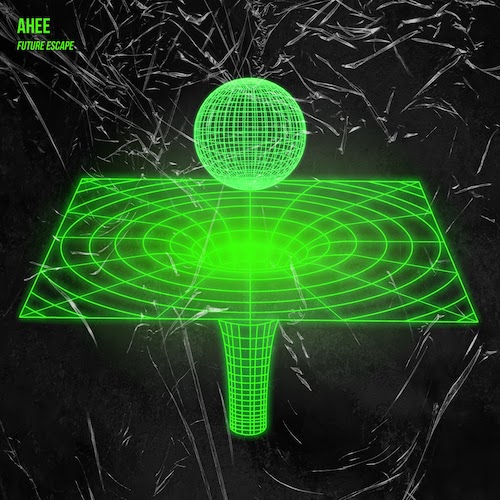 AHEE first popped up on my radar about a year ago with his vibrant five track "Spellbound" EP from Gravitas Recordings. A few months after that, his captivating collaboration with David Starfire and Bósa titled "Walking In The Stars" from the same label caught my attention as well.
Los Angeles based artist Chris Adams has another explosive bass heavy EP out now called "Future Escape" that was released on Flux Pavilion and Doctor P's Circus Records. The eight track set includes "It's A Vibe", "Flip The Switch" with Stylust", "Non Stop/So Loud", "I Feel It" with Defunk, "Losing Control", "When You're Dead" featuring Heartwurkz (a side project of his with Ash Tree), "Loner Stoner", and a remix of "Ooba" by Conrank. After taking a listen to the whole EP, it is no doubt an obvious match with the style that the London based imprint has become known for since it was founded in 2009.
AHEE had the guest mix last week on Circus Mixtape Vol 43 where he played all the songs from the EP, in addition to tracks by Jantsen and TVBOO, DMVU, Shlump, Buku, and more. He's also been busy on his YouTube channel sharing production tips and tutorials as well.
AHEE – Facebook / Twitter / Instagram / Soundcloud
Stylust Beats – Facebook / Twitter / Instagram / Soundcloud
Defunk – Facebook / Twitter / Instagram / Soundcloud
Heartwurkz – Facebook / Twitter / Instagram / Soundcloud
AHEE – Future Escape EP Tracklist:
01. AHEE – It's A Vibe (Original Mix)
02. AHEE x Stylust – Flip The Switch (Original Mix)
03. AHEE – Non Stop/So Loud (Original Mix)
04. AHEE x Defunk – I Feel It (Original Mix)
05. AHEE – Losing Control (Original Mix)
06. AHEE – When You're Dead ft. Heartwurkz (Original Mix)
07. AHEE – Loner Stoner (Original Mix)
08. Conrank – Ooba (AHEE Remix)