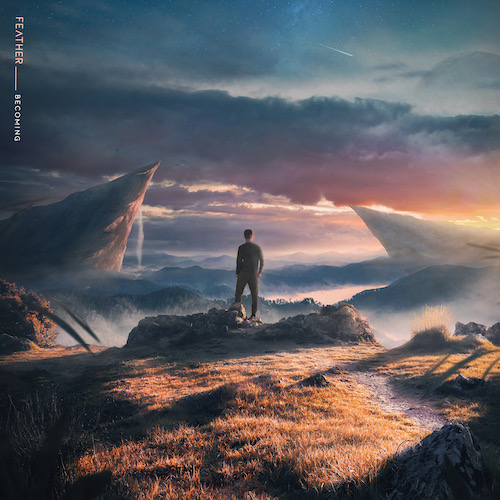 Feather ended 2020 with the release of two singles from his "Becoming" EP, and today we now have the full five track set. The Nashville based artist first started playing piano and guitar at the age nine and was also part of an indie pop band, both of which helped sharpen his musical talents and production skills.
The euphoric melodic bass EP consists of "Safe House", "Rise" featuring Kait Weston, "Where Are You", "Smoke" featuring Lostboycrow, and "Keys" featuring Steven K. After just one play of the set, it's easy to see why you should definitely keep an eye (and ear!) on Feather in 2021.
Read on for an interview with Feather as he talks about how he would describe his sound in three animals, how the EP ultimately came together, and what his goals are for this year!
Hey Feather, thanks for your time today! How have you been dealing with all the craziness that is happening in the country and in the world over the past year?
Not a problem, thanks for having me! It's been weird. Honestly, at first I really struggled with feeling obligated to be super productive with all of my extra free time. This just caused me to feel even more stressed when I wasn't super productive haha. Eventually I figured out a healthy balance, and in some ways I really feel like this whole time has allowed me an opportunity to hunker down and really spend some time investing in my personal health/mindset and my music! I actually might not be releasing this EP if I wasn't able to have this time!
How would you describe your sound in three animals, and why those animals?
Amazing question. My gut says octopus for the first one, because they're one of my favorite animals and they're diverse, smart, and other-worldly. Next, I would say a loon, the state bird of Minnesota where I'm from. I grew up spending a lot of time on the north shore where loons are very common. I love the calls they make because they sound beautiful and haunting, almost like a magical creature, and I actually use them in songs! Lastly I would say a jaguar because they have a majestic jungle vibe, which I think sometimes comes through in my music, but still can have an eerie dark side (i.e. black panther) which I like to indulge in sometimes as well!
After putting out your first two original mixes in October and December, your debut EP titled "Becoming" was recently self-released. What was the process like in creating the five tracks? Do the instrumentals or vocals come first for you?
These tracks have come together through the past few years for me, during my journey of learning how to produce my own music. They are a culmination of feeling inspired my some of my favorite genres and styles at the moment, while trying to create my own sonic space to thrive in. Usually instrumentals tend to come first for me – I've worked that way most my career, but there are actually a few on the EP that started with just vocals and some piano chords!
How long did it take from when you first started producing to now feeling comfortable sharing your sound?
At this point, it's been about four years of the journey. I'll admit it's still very early in the process for me, and I can tell my sound is only just starting to develop, but it wasn't until this past quarantine season when I took an online production class to try and build more skills that I really felt like I broke through a plateau and was at a point where I could share something that felt ready.
What can we expect from you in 2021?
I'm really looking to just keep the momentum going and release even more music. I'm not sure what live shows will look like this year, but it's my goal to start developing a show either for online presentation, or live!
Favorite song of 2020: SLANDER & Fairlane – Hurts Sometimes ft. Jonathan Mendelsohn (Original Mix)
Best track to play at peak time: ODESZA – Loyal (Original Mix)
Producer/vocalist you'd most like to work with: ILLENIUM, ODESZA, Bon Iver
Upcoming artist(s) to watch for in 2021: Fairlane, Dabin, Nightly, Fresco Savage
Take a listen to the "Becoming" EP below and give Feather and friends a follow!
Feather – Facebook / Twitter / Instagram / SoundCloud
Kait Weston – Facebook / Twitter / Instagram / SoundCloud
Lostboycrow – Facebook / Twitter / Instagram / SoundCloud
Steven K – Facebook / Twitter / Instagram / SoundCloud
Feather – Becoming EP Tracklist:
01. Feather – Safe House (Original Mix)
02. Feather – Rise ft. Kait Weston (Original Mix)
03. Feather – Where Are You (Original Mix)
04. Feather & Lostboycrow – Smoke (Original Mix)
05. Feather – Keys ft. Steven K (Original Mix)