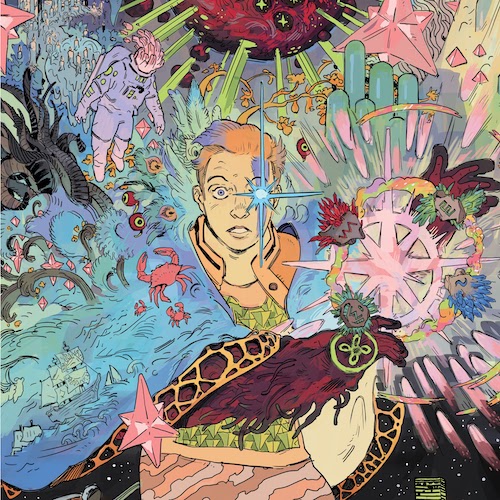 Flux Pavilion has released his second studio album titled ".wav", a remarkable sixteen track set with a number of striking collaborations. It follows his 2015 debut album in "Tesla" in addition to the accompanying 30 date Tesla Tour. Joshua Steele, who can play the drums, guitar, saxophone, and piano (plus his own vocals can be heard on songs like "Cannonball" with SNAILS, "Freeway" from his EP of the same name, and "The Scientist" and "Starlight" from his "Blow The Roof" EP) released the album from Circus Records, the imprint he started with Doctor P in London in 2009.
".wav" is a departure from his heavy, bass in your face sound that many have come to expect from him. Instead, it's a melodic, synth, and electric guitar driven set that features a number of captivating vocalists and talented producers. When your first track comes at the age of 19 and you have managed to stay at the top of the bass music game for the past decade-plus, it's certainly reasonable if you decide to change things up a little, especially when the end result is something like ".wav".
The album consists of "Every Cable Goes Somewhere", "Survive" with Feed Me (London based artist Jon Gooch) featuring meesh (New York based vocalist Michelle Morehead), "20:25" with What So Not (Sydney native Chris Emerson) featuring The Chain Gang of 1974 (Los Angeles based artist Kamtin Mohager), "Lion's Cage" featuring Nevve (songwriting and vocal collaborative, with Keeley Bumford singing on the track), "Partial Fugue in B Minor", "Sink Your Teeth In" featuring Drowsy (Portland based singer Victoria Liano), "I Believe" featuring ASHA (Croydon born singer Ashleigh Ludwig), and "Twitterbird".
There's also "Breathe", "You & I" featuring Kata Kozma (producer, singer/songwriter, and keyboardist based in Los Angeles), "Symphony" featuring Layna (Chicago born, New York City based Alayna Rickard), "Fall To Me" with Chime (Leeds native Harvey Thompson) featuring SpaceKDET (Nick Bradley), "I Will Stay" featuring Turin Brakes (English band consisting of Olly Knights, Gale Paridjanian, Rob Allum and Eddie Myer), "Somebody Else" featuring GLNNA (Los Angeles based artist Glenna Gasparian), "Endless Fantasy" featuring Eli-Rose Sanford (London based singer), and "LOVE".
On Saturday, Flux Pavilion said on Twitter that "I am so grateful to everyone that has taken a moment to listen to my album these past few days. I've put quite a lot of myself into .wav, more than I realised. To see it being enjoyed and hearing all your loving and thoughtful responses has meant the world. Thank you xx".
Most of the tracks have been played by Flux Pavilion during various livestream sets of his from last summer through the end of the year, such as Circus Records x UKF On Air: Quaranstream in May, Rave Family Block Fest in August, and Cookie Monsta Tribute Livestream with Bassrush.
Various songs from the album have been supported by the likes of Alison Wonderland, Illenium, Zeds Dead, NGHTMRE and SLANDER, Zomboy, Yellow Claw, Jauz, Annie Mac, Diplo, TOKiMONSTA, Louis The Child, Don Diablo, Valentino Khan, and The Aston Shuffle.
Tomorrow Tuesday January 26 at 11am, Flux Pavilion will be doing an AMA on r/electronicmusic.
On Friday February 5 at 7pm, Flux Pavilion will be hosting his ".wav" album launch livestream. Tickets and full livestream information can be found here.
Flux Pavilion – Facebook / Twitter / Instagram / Soundcloud
Feed Me – Facebook / Twitter / Instagram / SoundCloud
Meesh – Facebook / Twitter / Instagram / SoundCloud
What So Not – Facebook / Twitter / Instagram / Soundcloud
The Chain Gang Of 1974 – Facebook / Twitter / Instagram / Soundcloud
Nevve – Facebook / Twitter / Instagram / Soundcloud
Drowsy – Facebook / Twitter / Instagram / SoundCloud
ASHA – Facebook / Twitter / Instagram / SoundCloud
Kata Kozma – Facebook / Twitter / Instagram / SoundCloud
Layna – Facebook / Twitter / Instagram / SoundCloud
Chime – Facebook / Twitter / Soundcloud
SpaceKDET – Facebook / Twitter / Instagram / SoundCloud
Turin Brakes – Facebook / Twitter / Instagram / SoundCloud
GLNNA – Facebook / Twitter / Instagram / Soundcloud
Eli-Rose Sanford – Facebook / Twitter / Instagram / SoundCloud
Flux Pavilion – .wav (Album) Tracklist:
01. Flux Pavilion – Every Cable Goes Somewhere (Original Mix)
02. Flux Pavilion & Feed Me – Survive ft. meesh (Original Mix)
03. Flux Pavilion & What So Not – 20:25 ft. Chain Gang of 1974 (Original Mix)
04. Flux Pavilion – Lion's Cage ft. Nevve (Original Mix)
05. Flux Pavilion – Partial Fugue In B Minor (Original Mix)
06. Flux Pavilion – Sink Your Teeth In ft. Drowsy (Original Mix)
07. Flux Pavilion – I Believe ft. ASHA (Original Mix)
08. Flux Pavilion – Twitterbird (Original Mix)
09. Flux Pavilion – Breathe (Original Mix)
10. Flux Pavilion – You & I ft. Kata Kozma (Original Mix)
11. Flux Pavilion – Symphony ft. Layna (Original Mix)
12. Flux Pavilion & Chime – Fall To Me ft. SpaceKDET (Original Mix)
13. Flux Pavilion – I Will Stay ft. Turin Brakes (Original Mix)
14. Flux Pavilion – Somebody Else ft. GLNNA (Original Mix)
15. Flux Pavilion – Endless Fantasy ft. Eli-Rose Sanford (Original Mix)
16. Flux Pavilion – LOVE (Original Mix)