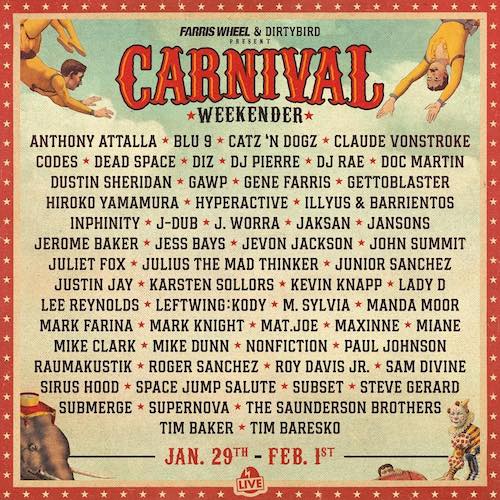 The Carnival Weekender from Gene Farris' Farris Wheel and Claude VonStroke's Dirtybird is happening right now! The 60 hour livestream marathon runs today through Monday February 1 with 60 DJs set to perform. In addition to VonStroke and Farris, house artists that are scheduled to play include the likes of Doc Martin, GAWP, Ilyus & Barrientos, J. Worra, John Summit, Justin Jay, Mark Farina, Mark Knight, Nonfiction, Roger Sanchez, Sam Divine, and more.
Check out the Carnival Weekender set times right here!
Farris Wheel is a record label that the Chicago based legend started in 1998, while VonStroke's Dirtybird was launched in 2005 and finds its home in Los Angeles.
Farris Wheel – Facebook / Twitter / Instagram / SoundCloud
Dirtybird – Facebook / Twitter / Instagram / SoundCloud / Website
Farris Wheel & Dirtybird present Carnival Weekender Lineup:
Anthony Atalla, Blu 9, Catz 'n Dogz, Claude VonStroke, Codes, Dead Space, Diz, DJ Pierre, DJ Rae, Doc Martin, Dustin Sheridan, GAWP, Gene Farris, Gettoblaster, Hiroko Yamamura, Hyperactive, Ilyus & Barrientos, Inphinity, J-Dub, J. Worra, Jaksan, Jansons, Jerome Baker, Jess Bays, Jevon Jackson, John Summit, Juliet Fox, Julius The Mad Thinker, Junior Sanchez, Justin Jay, Karsten Sollors, Kevin Knapp, Lady D, Lee Reynolds, Leftwing : Kody, M. Sylvia, Manda Moor, Mark Farina, Mark Knight, Mat.Joe, Maxinne, Miane, Mike Clark, Mike Dunn, Nonfiction, Paul Johnson, Raumakustik, Roger Sanchez, Roy Davis Jr., Sam Divine, Sirus Hood, Space Jump Salute, Subset, Steve Gerard, Submerge, Supernova, The Saunderson Brothers, Tim Baker, Tim Baresko