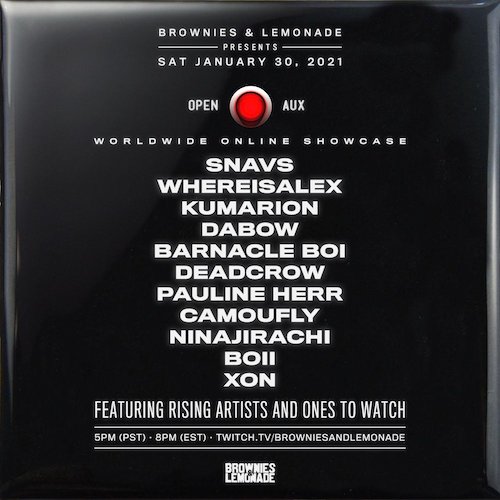 After hosting their first Open Aux online showcase on July 25, Brownies & Lemonade return with another Open Aux lineup starting this afternoon Saturday January 30 at 5pm and will once again feature rising artists and ones to watch. The livestream was hinted at on Sunday with the official announcement being made on Monday.
Team B&L offered the chance for fans to tag artists they believe in for a chance play a set during the event, with LYNY being selected yesterday. Also scheduled to perform are Snavs, whereisalex, Kumarion, Dabow, Barnacle Boi, Deadcrow, Pauline Herr, camoufly, Ninajirachi, BOII, and XON. Check out the set times below or right here!
All stream proceeds will benefit the performing artists.
Brownies & Lemonade – Facebook / Twitter / Instagram / Soundcloud / Website
Brownies & Lemonade presents Open Aux January 30 Lineup:
Snavs, whereisalex, Kumarion, Dabow, Barnacle Boi, Deadcrow, Pauline Herr, camoufly, Ninajirachi, BOII, XON, LYNY