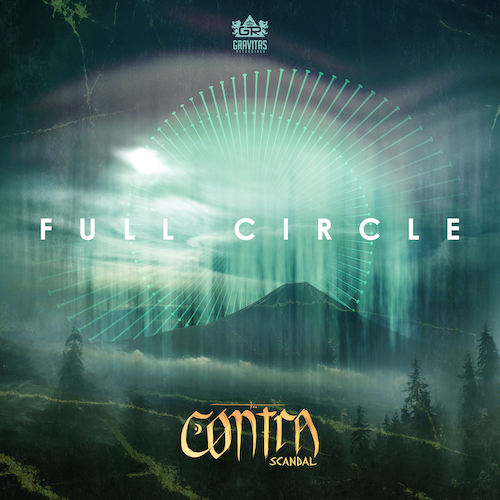 In 2020, Contra Scandal spent six months in the studio working on his album "Full Circle". The 10 track set (including a remix by Morillo) from Austin based Gravitas Recordings is a collection of his impressive production skills combined with his own violin playing (which he started learning at the age of 4) and vocals.
The album includes "Immersion", "Escapade", "Mile High Livin'", "A Calling", "Snake Charmer", "Hard Way" featuring the dreamy and ethereal vocals of Spirah, "Full Circle", "Rebel", "The Remaining Light", and a remix of "Mile High Livin'" by Morillo. Ezra Arenzon, who is from Kings Mountain (which is about 45 minutes south of San Francisco) and now calls Denver home, uses psychedelic vibes, deep basslines, and hypnotic melodies to take listeners on a spellbinding and entrancing journey. Be sure to check out the 36 minute album mix as well!
Near the end of 2020, Contra Scandal released his six song "Imperial" EP. He has also opened for the likes of NGHTMRE, SVDDEN DEATH, Subdocta, Caspa, and Trampa.
The mesmerizing vocals of Colorado based Spirah, also known as Carly Lynn, have been heard on collaborations with SoDown, Bass Physics, and ZURC.
Los Angeles based Zach Morillo released his eight track "Shades Of Green" EP in February and also played a Dreamland livestream set for Emergence Virtual Music Showcase which was filmed with a drone on the beach in Malibu. Also an accomplished drummer (he started playing at the age of 7), Morillo performed with Rhye on Jimmy Kimmel Live last month.
Contra Scandal – Facebook / Twitter / Instagram / SoundCloud
Spirah – Facebook / Twitter / Instagram / SoundCloud
Morillo – Facebook / Twitter / Instagram / SoundCloud
Contra Scandal – Full Circle (Album) Tracklist:
01. Contra Scandal – Immersion (Original Mix)
02. Contra Scandal – Escapade (Original Mix)
03. Contra Scandal – Mile High Livin' (Original Mix)
04. Contra Scandal – A Calling (Original Mix)
05. Contra Scandal – Snake Charmer (Original Mix)
06. Contra Scandal – Hard Way ft. Spirah (Original Mix)
07. Contra Scandal –  Full Circle (Original Mix)
08. Contra Scandal – Rebel (Original Mix)
09. Contra Scandal – The Remaining Light (Original Mix)
10. Contra Scandal – Mile High Livin' (Morillo Remix)