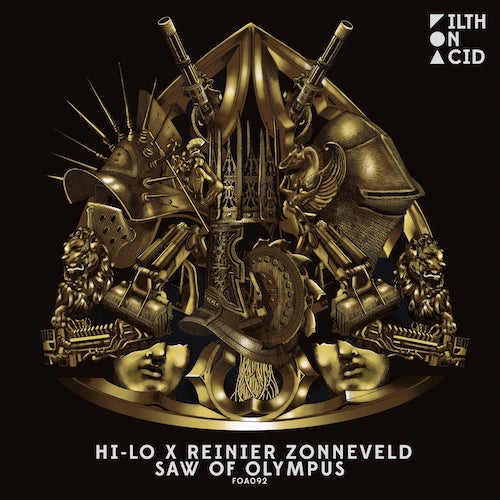 Two Dutch artists in HI-LO and Reinier Zonneveld have joined forces to create "Saw Of Olympus". HI-LO, an alias for the well known as Oliver Heldens, and Zonneveld use thumping kicks and whirling synths with acid techno vibes in the collaboration. The track was released on Zonneveld's Filth on Acid imprint, which he started in 2016 in Amsterdam. The song currently sits at the number one spot on the Beatport Techno (Peak Time / Driving) Top 10 chart.
"Over the last few years I've become a big fan of Reinier's productions, his style and his label Filth on Acid, so a few months ago I sent him a couple of new HI-LO ideas that I was working on and he was really into them, so he invited me to his studio to work on some of these together," Heldens says. "In the studio we were a really good match, it was very inspiring for the both of us, and I definitely learned a lot from him. We ended up doing multiple studio sessions and we are working on a few different tracks together now which I'm really excited about!
This new track 'Saw of Olympus' is the first one that we finished. We called it 'Saw of Olympus', because the track has a very distinctive Saw synth, a real "Saw of the Gods", continuing the Greek god theme of my latest HI-LO releases Athena, Kronos, Zeus and Poseidon. Hope you like it :)".
Zonneveld states "Since the whole scene is in lockdown and sitting at home, everybody has more time on hand to work on new things. For me this is a great way to explore new collabs that might not be the most obvious ones. Oliver Heldens has been sending me some of his techno works for over a year already – under his alias HI-LO. I really liked what I heard and invited him over to my studio. Turns out he is a great producer and a very fun guy to work with, and we ended up doing regularly very inspiring and productive sessions which resulted in a whole bunch of new tracks that we're both very happy with! One of these tracks is Saw of Olympus, and I'm really happy to share it with you on my label Filth on Acid NOW!"
W&W, Blasterjaxx, John Summit, Sander van Doorn, Timmy Trumpet, Bingo Players, and Rebūke have all played the tune.
HI-LO – Facebook / Twitter / Instagram / SoundCloud
Reinier Zonneveld – Facebook / Twitter / Instagram / SoundCloud