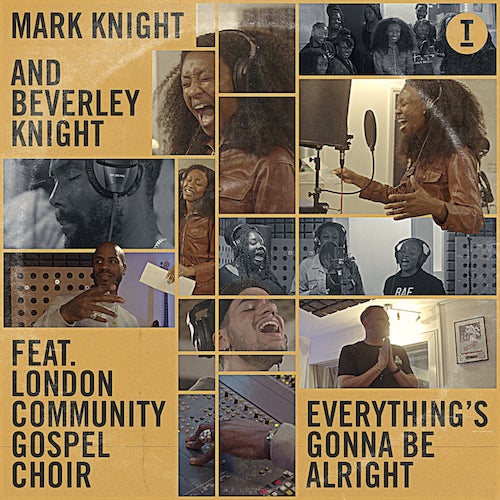 Brighten up your Monday night with some funky basslines, upbeat piano chords, and vibrant guitar riffs! Mark Knight and Beverley Knight have us covered with "Everything's Gonna Be Alright" featuring London Community Gospel Choir, out now on Knight's Toolroom Records.
Grammy nominated Mark Knight native says "I wanted to write a song of hope as we come out of this incredibly tough time. I feel that musicians and producers have a responsibility to provide the soundtrack to people's lives, and with this glimmer of hope on the horizon, I wanted this song to be a moment of positivity for the future ahead."
Beverley Knight, who was appointed a Member of the Order of the British Empire in 2006 in recognition of her contribution to British music, states "It was wonderful to be asked to vocal this uplifting energetic and hopeful track by Mark Knight. I am by nature an optimist and I truly believe the message 'Everything's Gonna Be Alright' which made it so easy to seriously blow! It was great to be joined by the legendary London Community Gospel Choir who introduced the gospel sound to the UK 40 years ago. Pure joy!"
The London Community Gospel Choir, who formed in 1983 and can be heard with Elton John on "Circle Of Life" from The Lion King, add "When we got the call from Mark Knight, as a choir we're so excited to be together (Covid got in the way) and then to have a dance track to sing with Beverley Knight was the icing on the cake. Especially after the tense year we've all had, just like the song says, 'Everything Is Gonna Be Alright'."
Knight recently played the tune on Toolroom Radio 578 and again during his Toolroom Virtual Festival with Insomniac, with further support from Oliver Heldens, Diplo, Dannic, Annie Mac, Danny Howard, David Penn, Futuristic Polar Bears, Hard Rock Sofa, Martin Ikin, Leftwing : Kody, TCTS, and PBH & Jack.
Mark Knight – Facebook / Twitter / Instagram / SoundCloud
Beverley Knight – Facebook / Twitter / Instagram / SoundCloud
London Community Gospel Choir – Facebook / Twitter / Instagram / SoundCloud