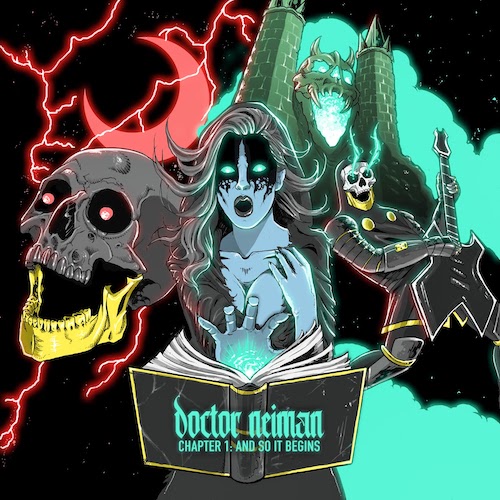 Previously known for releasing tunes like "Gasoline" under his real name of Noah Neiman, the Austin based artist has turned over a new leaf with a new sound and a (somewhat) new name. The debut EP from Doctor Neiman titled "Chapter 1: And So It Begins" has been put out on Flux Pavilion and Doctor P's London based Circus Records.
The set consists of "Nothing Without You" featuring Micah Martin, "Wasteland", "What About Love" with Micah Martin, and "Hermes" featuring Malcolm Anthony. His new style is a lot more heavier and bass driven than his previous work, but I was immediately drawn to it after I heard the first track.
Doctor Neiman (who is a real life optometrist) recently had the guest mix on Circus Mixtape Vol 48 where he played the tunes from the EP, along with tracks by NGHTMRE, Laxx, MUZZ, Yultron, Sullivan King, Virtual Riot, GRiZ, Eliminate, and more. In January, his track "Let Go" with Strocksu and Jenny Chapin was a part of the "Dawn" Volume 2 compilation album from Excision's record label Subsidia.
Singer and songwriter Micah Martin of Iowa has collaborated with artists such as Rebelion on "Never Back Down", Lucille Croft on "Don't Go", Kayzo and SLANDER on "Holy", and again with Kayzo on three tracks from his 2018 album "Overload" in "Overload", "Exhale", and "Feel The Power".
New Jersey native Malcom Anthony previously worked with SNBRN and Dr. Freshch on "What You Want", SNBRN and Anthony Isaiah on "James Brown", Protohype and MineSweepa on "100", and Protohype on "Lights On".
Doctor Neiman – Facebook / Twitter / Instagram / SoundCloud
Micah Martin – Facebook / Twitter / Instagram / SoundCloud
Malcolm Anthony – Facebook / Twitter / Instagram / SoundCloud
Doctor Neiman – Chapter 1: And So It Begins EP Tracklist:
01. Doctor Neiman – Nothing Without You ft. Micah Martin (Original Mix)
02. Doctor Neiman – Wasteland (Original Mix)
03. Doctor Neiman x Micah Martin – What About Love (Original Mix)
04. Doctor Neiman – Hermes ft. Malcolm Anthony (Original Mix)