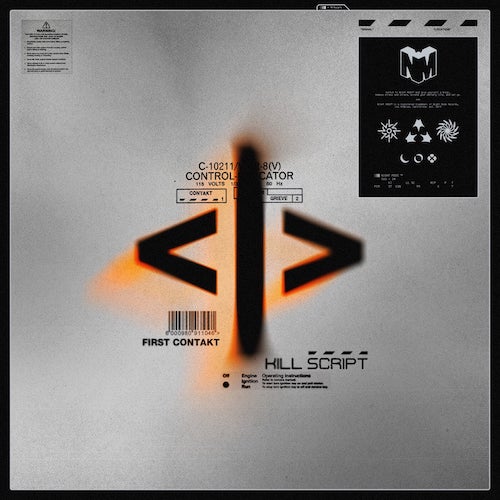 KILL SCRIPT is an artist I picked up on earlier this year in March after hearing previews of his remixes on Twitter yet to be officially released. Some of those include his takes on well known tunes such as "I Remember" by deadmau5 and Kaskade, "Fresh Static Snow" by Porter Robinson, "Clarity" by Zedd featuring Foxes, "Blue" by Eiffel 65, "Ghosts N Stuff" by deadmau5 featuring Rob Swire, and "Love Comes Again" by Tiesto featuring BT.
Not only can he flip a track or two, he's also previously posted some originals of his own as well in "Contakt" and "Grieve". The two heart pounding and driving tunes make up his debut industrial techno EP titled "First Contakt", which was released this past Friday on Los Angeles based record label NIGHTMODE. The first song features thumping kicks and pummeling beats white the latter uses ethereal vocals and dark melodies.
"I'm so excited to start this wild journey with KILL SCRIPT," he says. "It's been a culmination of years of ideas, dreams, lots of brainstorming sessions, and so much more. I've never been so inspired to write music and, at the same time, tell a unique visual story. After years of battling upriver, this story has just flowed out and I can't wait to begin the journey with all of you. I'm also very excited to follow up my first track, STASIS, and begin this story with NIGHT MODE. After being given my first shot, I can't thank NIGHT MODE enough for giving me the opportunity to be a part of the family. I can't think of a better home to begin this journey."
Earlier this month, the Icon Collective graduate released a 90 minute mix called TECHNOSCAPE 001 that I've listened to numerous times over the past few weeks. The set includes tracks from the likes of A*S*Y*S and T78, Space 92, T78 and ROBPM, and Joyhauser, in addition to a number of IDs and his own edits.
After doing a little research on KILL SCRIPT, I was surprised when I found out that the man behind the project is Noah Ramsey who was previously known as ATLAST. Near the end of 2019, I wrote about his jaw dropping remix of "Shepherd Of Fire" by Avenged Sevenfold.
KILL SCRIPT – Facebook / Twitter / Instagram / SoundCloud
KILL SCRIPT – First Contakt EP Tracklist:
01. KILL SCRIPT – Contakt (Original Mix)
02. KILL SCRIPT – Grieve (Original Mix)