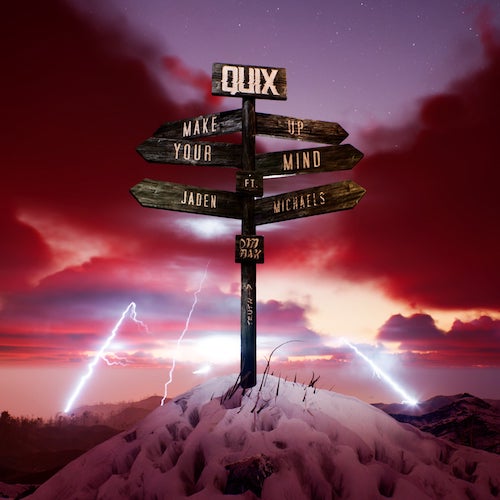 The latest track from QUIX called "Make Up Your Mind" featuring Jaden Michaels was inspired by the drum and bass scene of his home country New Zealand. The action packed dnb tune features crisp percussion with the captivating vocals of Michaels. Their collaboration was released through Steve Aoki's record label Dim Mak, which he founded in 1996 and is currently based in Los Angeles.
QUIX says that "I actually started writing this beat last year during a twitch stream; funnily enough, Jaden had already sent me the topline months before. Essentially, I mashed up the beat with her vocal and surprised myself with how well they worked together. I've never made a DnB song like this before, and I wanted to challenge myself to incorporate the mainstream style with my signature style. Thank you for listening, and hope you enjoyed yourself, especially on that last drop!!"
Auckland native Jono Schnell recently held an AMA on reddit where he answered questions about how he first starts out on a track, gave some sound design tips, and how he keeps moving forward. A few QUIX favorites of mine include "Chicane" with Juelz, "Time" with Alison Wonderland, and his remix of "Light Me Up" by RL Grime featuring Miguel and Julia Michaels (who is the younger sister of Jaden).
Michaels is a Nashville based singer and songwriter who has previously worked with the likes of Jennifer Lopez, Demi Lovato, Carly Rae Jepsen, Robin Thicke, Jordin Sparks, Lea Michele, and Naya Rivera. She also worked with QUIX before on "Giving Up" and with Tritonal on "Running Into Me".
QUIX – Facebook / Twitter / Instagram / SoundCloud
Jaden Michaels – Facebook / Twitter / Instagram / SoundCloud