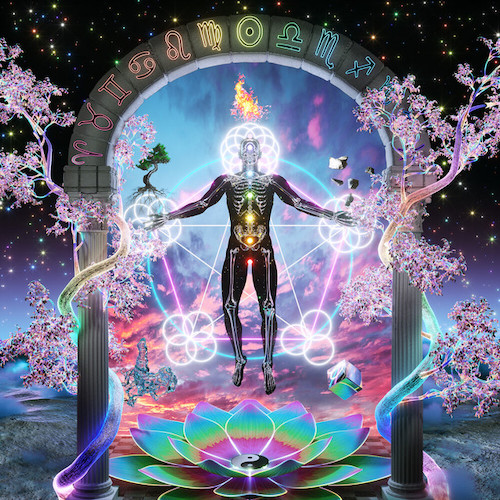 GRiZ released his massive seventh album titled "Rainbow Brain" last week, and what an album it is! Featuring 23 tracks with a handful of talented collaborators, the bass filled and psychedelic set with stunning saxophone will keep you busy for the next hour. Last week, he livestreamed GRiZ Presents: Rainbow Brain The Movie, a 55 minute "audio/visual experience that will transport you to the outer realms of your imagination."
Included in the album are "Chromesthesia", "Astro Funk", "Vibe Check", "Take Em Back", "Burn Up The Floor" with Jantsen, "Got It Like", "Tie Dye Sky", "ROYGBIV", "Rainbow Brain" featuring ProbCause and Chrishira Perrier, "24", "Harmony", and "Gold" featuring Cherub. There is also "Daily Routine" featuring Big Gigantic and ProbCause, "Other Side of Jupiter", "Wu Wei", "Infinite", "Your Are I Can", "Feel It All" featuring "Chrishira Perrier", "42", "548 MAC Ave", "P.S.", "Another World", and "The Echo Tree".
A few of the previously released tunes have been supported by Zeds Dead, NGHTMRE, Doctor P, Alison Wonderland, and Illenium.
Detroit native Grant Kwiecinski has released some bangers over the past couple of years like the aptly named "Bangers[2].Zip" (which includes "Griztronics" featuring Subtronics), "Bangers[3].Zip", and "Bangers[6].Zip".
Jantsen Robertson of Boulder, Colorado put out his "Gutter Till I Die" EP on Excision's record label Subsidia a few months ago in April, with "Gutter Juice" EP being released last year in on Doctor P and Flux Pavilion's Circus Records.
ProbCause, also known as Chicago native Colin Grimm, is also known for animating, designing and producing, working with likes of Chance the Rapper, Gramatik, and Action Bronson.
New Orleans native Chrishira Perrier, who is a member of the GRiz Live Band, has collaborated with Gramatik, Waka Flocka Flame, and Anomalie, and also put out her debut track "A Day Like Today" in 2019.
Cherub, consisting of Nashville based Jordan Kelley and Jason Huber, met in 2010 at Middle Tennessee State University and have gone on to play at festivals like Lollapalooza, Bonnaroo, Glastonbury, Outside Lands, Osheaga, Summer Camp, and Summer Sonic.
The Big Gigantic duo, which are Boulder based Dominic Lalli (production and saxophone) and Jeremy Salken (drums), previously worked with GRiZ on the funk filled and bouncy "C'mon" from their 2016 album "Brighter Future".
GRiZ – Facebook / Twitter / Instagram / Soundcloud
Jantsen – Facebook / Twitter / Instagram / Soundcloud
ProbCause – Facebook / Twitter / Instagram / SoundCloud
Chrishira Perrier – Facebook / Twitter / Instagram / SoundCloud
Cherub – Facebook / Twitter / Instagram / SoundCloud
Big Gigantic – Facebook / Twitter / Instagram / Soundcloud
GRiZ – Rainbow Brain (Album) Tracklist:
1. GRiZ – Chromesthesia (Original Mix)
2. GRiZ – Astro Funk (Original Mix)
3. GRiZ – Vibe Check (Original Mix)
4. GRiZ – Take Em Back (Original Mix)
5. GRiZ – GRiZ x Jantsen – Burn Up The Floor (Original Mix)
6. GRiZ – Got It Like (Original Mix)
7. GRiZ – Tie Dye Sky (Original Mix)
8. GRiZ – ROYGBIV (Interlude)
9. GRiZ – Rainbow Brain ft. ProbCause & Chrishira Perrier (Original Mix)
10. GRiZ – 24 (Original Mix)
11. GRiZ – Harmony (Original Mix)
12. GRiZ – Gold ft. Cherub (Original Mix)
13. GRiZ – Daily Routine ft. Big Gigantic & ProbCause (Original Mix)
14. GRiZ – Other Side of Jupiter (Original Mix)
15. GRiZ – Wu Wei (Original Mix)
16. GRiZ – Infinite (Original Mix)
17. GRiZ – You Are I Can (Original Mix)
18. GRiZ – Feel It All ft. Chrishira Perrier (Original Mix)
19. GRiZ – 42 (Original Mix)
20. GRiZ – 548 MAC Ave (Original Mix)
21. GRiZ – P.S. (Original Mix)
22. GRiZ – Another World (Original Mix)
23. GRiZ – The Echo Tree (Original Mix)