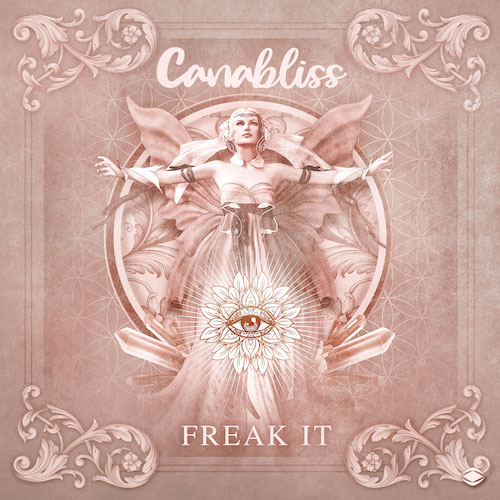 At first, "Freak It" by Canabliss seems like a dreamy yet trippy bass tune that you can wind the day down with. That all changes at about 1:17 into the track from Liquid Stranger's imprint SSKWAN, which is when Toronto native Samantha Infusini throws down an extra dose of wubs and wobbles, blending the best of experimental and future bass.
Read on for an interview with Canabliss as she talks about how she would describe her sound in three animals, how "Freak It" differs from her previous tunes, the most memorable performance of her career so far, and more!
What's up Canabliss, appreciate you answering a few questions today! How has the past year and a half been for you with everything that's going on?
Hey OC EDM! Thank you so much for having me. The past year and a half definitely wasn't easy! I get a lot of my creative inspiration from new experiences, so being locked up that whole time was certainly tough as you can imagine. On the bright side, I (and I'm sure many others) certainly have a greater appreciation for all the things we had to miss out on during the pandemic, and everything slowly returning to normal feels more than euphoric!
How would you describe your sound in three animals, and why those animals?
This is a funny question because I've often compared bass noises/synths to animals. My song "Crique" is actually named that because the main drop sounds like crickets to me. I also find that certain "wub" noises remind me of dog barks sometimes too.
In a deeper sense, I would say tigers and wolves because they are fierce and individualistic, which is something I strive to present in my music. For the third let's go with sugar gliders because they seem like they're having a fun time.
Your new song called "Freak It" was just put out on SSKWAN. What's the story on how the track came together and the name of it?
I wrote "Freak It" after I just met my boyfriend and was feeling really special about it. I tried to encapsulate the feelings one feels after first meeting someone really special, and I also wanted to write a more bright and fun song about being young and in love, and having a good time.
How does "Freak It" differ from previous tunes of yours?
To me, "Freak It" is different because it's more groovy and focuses on different aspects than I have in the past with my music. I think it's more experimental with the wavy synth-forward melody, and there's more focus on vocals than most of my tracks. Overall, I think it has a cool balance beginning with warmer summery vibes, then cooling down again with the darker wobbles.
You signed with Wakaan's management team Optimystic Group last year. How did that relationship start and why do you feel it's a good partnership for you?
Yes, I'm super grateful to be working with such an awesome team! They reached out to me and I couldn't of been more stoked. I think it's a great partnership because they really believe in my vision and are very open and supportive of unique creativity. They also are known to be like a family, which certainly holds true. There's a very nice welcoming vibe, and I'm never afraid to ask questions and learn more with them!
What's been the most memorable performance of your career so far?
The most memorable performance of my career so far was when I was main support for Peekaboo in Toronto. The crowd's energy was insanely hype, and it made me feel instantly comfortable. I really loved my set, and I felt more like I was enjoying myself with the crowd rather than just performing for them, which I thought was really cool.
Favorite song of 2020: Comatose by Low Hum was my 2020 anthem.
Best track to play at peak time: I haven't played live in a while due to the pandemic, but my favourite track to get hyped to live was Black Shadows by Adiidas!
Producer(s) and/or vocalist(s) you'd most like to work with: There's soo many! Ivy Lab is one of my favourites and biggest inspirations. Lights is also one of my long-time favourite vocalists.
Upcoming artist(s) to watch for in 2021: There are so many amazing bass artists coming up right now, and everyone releasing on SSKWAN is killing it as well! INNOCENT is a cool bass artist to look out for.
Thank you for having me!
Canabliss
Check out "Freak it" by Canabliss below and be sure to give her a follow!
Canabliss – Facebook / Twitter / Instagram / SoundCloud