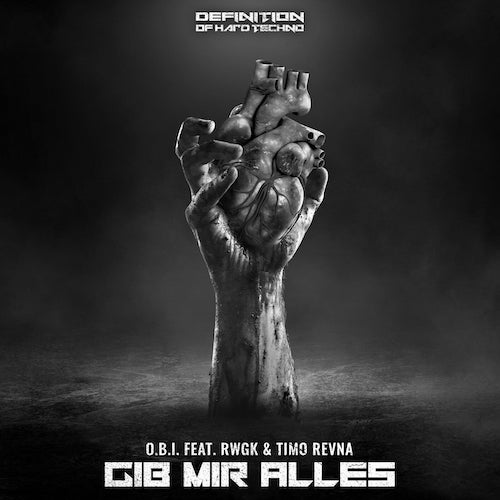 Three German artists have come together to create a heart pounding techno track called "Gib Mir Alles" that will have you sweating bullets like you were at an underground warehouse rave. O.B.I. and RWGK lay down some pummeling basslines and thumping drums while Timo Revna provides the deep and ominous vocals. The song was released on Definition Of Hard Techno, the record label started by O.B.I. in 2015.
In June 2020, O.B.I., also known as Tobias Lueke from Greven, played a special set to celebrate the 5 Years Definition Of Hard Techno anniversary. Then in October, he released "20 Years The Sound Of O.B.I.", saying that "This year I am celebrating 20 years as a Dj and producer in the electronic music scene and I put together a compilation with 233 songs and remixes from the past 20 years. Some of my first tracks ever, some rare vinyl releases, some unreleased tracks, some edits, some remastered tracks and some remixes. Thank you all for so many years with great memories and amazing events. I am very thankful that I had the chance to make music my job and I hope I can continue for another 20 years."
RWGK, whose real name is Rüdiger Kränzlein of Stuttgart, has put out an 11 track album called "Melancholia", a four song EP titled "Blurred Memories", and a four tune EP called "Dstml" in the past year.
This year, Timo Revna, who is based in Frankfurt, has released "Integrity" from the "This Is Endzeit, Vol. 5" compilation album and an EP titled "Brighter" with Sascha Audit.
O.B.I. – Facebook / Twitter / Instagram / SoundCloud
RWGK – Facebook / Twitter / Instagram / SoundCloud
Timo Revna – Facebook / Twitter / Instagram / SoundCloud