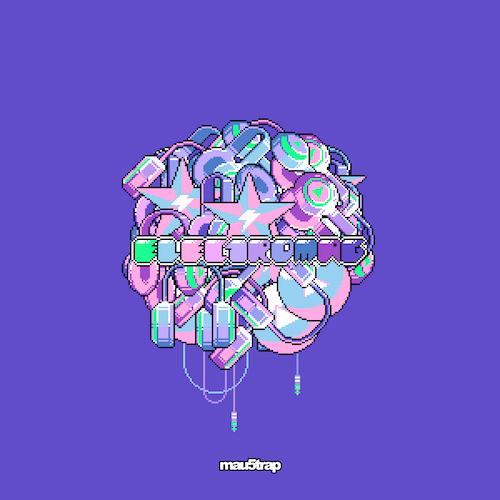 No Mana takes us back to the good old days of electro house with a nostalgic 19 track compilation album titled "Electromag". Over 90 minutes of whirring synths, distorted kicks, and four on the floor beats are included in the set curated by Los Angeles resident Jordan Orcaz and released by deadmau5's record label mau5trap.
The album includes "Can't Say No" by No Mana and Tommy Trash, "The Original" by Wolfgang Gartner, "Electro Forever" by EDDIE and Bad Disk, "Cake Control" by EDDIE, "Amron" by Bentley Dean, "Saucy" by Moki, "Media Encoder" by Moki and Foxhunt, "Symphony" by Foxhunt, "Example" by No Mana featuring Uppermost, and "Toys of Violence" by No Mana.
"Old School Sound" by James Egbert, "youtuberip.mp3" buy Bentley Dean, "Recalled" by KEETZ, "Off" by Sysdemes, "Blare" by ELAC, "Flat Track" by KEETZ, "Over & Over & Over Again" by Bad Disk, "Squid Lips" by 80M, and "Alive" by No Mana and James Egbert are also in the compilation.
'Throwback Sunday' might not be a thing but 'Send It Back Sunday" should be, thanks to No Mana and the "Electromag" artists!
No Mana – Facebook / Twitter / Instagram / Soundcloud
Tommy Trash – Facebook / Twitter / Instagram / Soundcloud
Wolfgang Gartner – Facebook / Twitter / Instagram / Soundcloud
EDDIE – Facebook / Twitter / Instagram / Soundcloud
Bad Disk – Facebook / Twitter / Instagram / SoundCloud
Bentley Dean – Facebook / Twitter / Instagram / SoundCloud
Moki – Facebook / Twitter / Instagram / SoundCloud
Foxhunt – Facebook / Twitter / Instagram / SoundCloud
Uppermost – Facebook / Twitter / Instagram / SoundCloud
James Egbert – Facebook / Twitter / Instagram / SoundCloud
KEETZ – Facebook / Twitter / Instagram / SoundCloud
Sysdemes – Facebook / Twitter / Instagram / SoundCloud
ELAC – Facebook / Twitter / Instagram / SoundCloud
80M – Facebook / Twitter / Instagram / SoundCloud
No Mana – Electromag (Compilation Album) Tracklist:
01. No Mana & Tommy Trash – Can't Say No (Original Mix)
02. Wolfgang Gartner – The Original (Original Mix)
03. EDDIE & Bad Disk – Electro Forever (Original Mix)
04. EDDIE – Cake Control (Original Mix)
05. Bentley Dean – Amron (Original Mix)
06. Moki – Saucy (Original Mix)
07. Foxhunt & Moki – Media Encoder (Original Mix)
08. Foxhunt – Symphony (Original Mix)
09. No Mana – Example ft. Uppermost (Original Mix)
10. No Mana – Toys of Violence (Original Mix)
11. James Egbert – Old School Sound (Original Mix)
12. Bentley Dean – youtuberip.mp3 (Original Mix)
13. KEETZ – Recalled (Original Mix)
14. Sysdemes – Off (Original Mix)
15. ELAC – Blare (Original Mix)
16. KEETZ – Flat Track (Original Mix)
17. Bad Disk – Over & Over & Over Again (Original Mix)
18. 80M – Squid Lips (Original Mix)
19. No Mana & James Egbert – Alive (Original Mix)