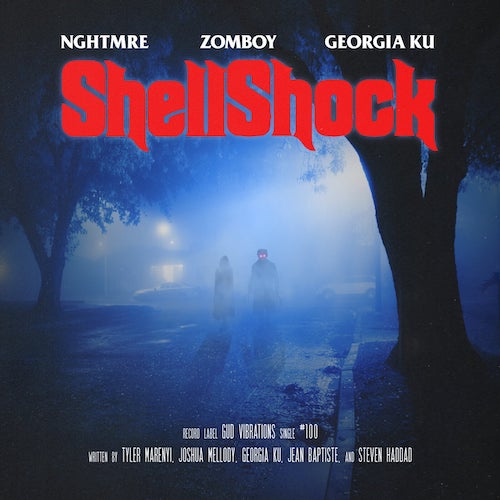 Gud Vibrations recently celebrated its 100th release with a track called "Shell Shock" by NGHTMRE and Zomboy featuring Georgia Ku. The record label, which was launched by NGHTMRE and SLANDER in October 2018, has since put out songs from the likes of WAVEDASH, Shadient, Habstrakt, Moody Good, Kraysh, and more.
In "Shell Shock", Tyler Marenyi and Joshua Mellody combine punishing basslines and distorted drums with the serene and alluring vocals of Ku. If this tune doesn't make you head bang, you might want to check your pulse!
Favorites of mine from NGHTMRE over the past couple of years include "Feeling Good" with SLANDER featuring Matthew Santos, his remix of "Lost My Mind" by Dillon Francis and Alison Wonderland, and "BANG" with Shaquille O'Neal and Lil Jon.
Zomboy first came on my radar about 10 years ago with "Organ Donor", with his six track "The Dead Symphonic" EP also worth a listen to.
Georgia Ku is an England-born, Los Angeles-based singer and songwriter who has worked with artists such as Dua Lipa, Fifth Harmony, Rita Ora, Martin Garrix, Skrillex, and Illenium.
NGHTMRE – Facebook / Twitter / Instagram / Soundcloud
Zomboy – Facebook / Twitter / Instagram / Soundcloud
Georgia Ku – Facebook / Twitter / Instagram / SoundCloud